Hawaii Titanium Rings
Big Island Guide Travel Guide
Handcrafted with style utilizing the most exotic of stones, minerals and local woods shrouded by titanium, gold, and silver, Hawaii Titanium Rings offers a treasure trove of uniquely-styled band rings for the most discriminating shopper.
Founded by Jerry Guire, Hawaii Titanium Rings is a family-owned institution world-renowned for their unique designs using titanium because of its durability as a performance metal. Also applied by the military and aerospace technology, titanium is heated to over 3600 degrees Fahrenheit within their design process. The titanium used by Jerry and his designers is the highest aerospace-grade and exclusively made in America.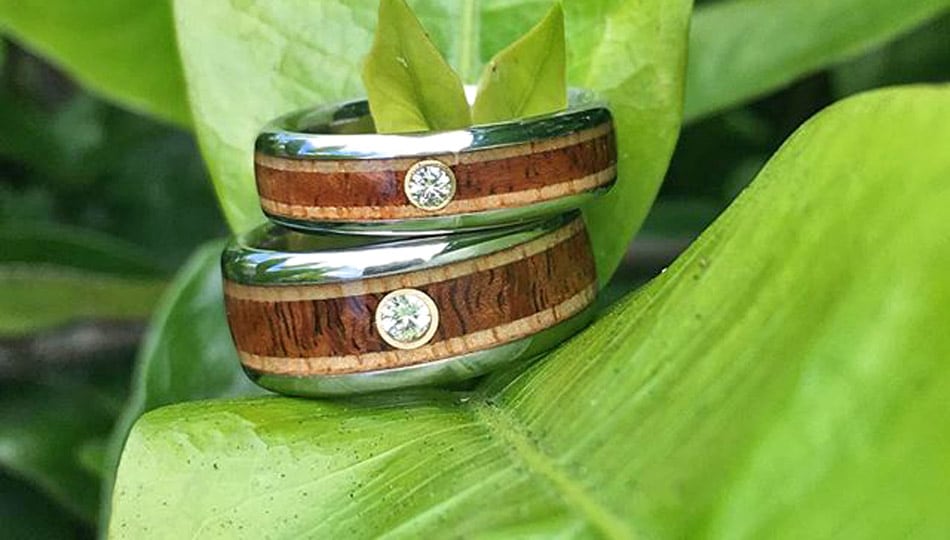 After construction, the rings are protected with a particular resin to safeguard your investment from the elements. Hawaii Titanium Rings design materials include 50 exotic and domestic woods, including 6 varied Koa woods, and 40 rare gemstones and minerals. Aside from their bountiful pre-designed selection available, Hawaii Titanium Rings also does custom design work and engraving to suit your individual style at your request with worldwide shipping.
The beautiful inlays of opal, turquoise, lapis, diamonds, and pearls nestled in Hawaiian, curly Koa wood framed with titanium are so extraordinary, Cleopatra would even covet! Designed for all tastes, if you're looking to celebrate an anniversary, your adventure to Hawaii or hear the words "I do", this is the place to find your one-of-a-kind ring that will surely entice!
Location
73-5617 Maiau St #5
Kailua-Kona, HI 96740
Website