Hawaii Tropical Botanical Garden
Big Island Guide Travel Guide
Hawaii Tropical Botanical Garden Overview
The Hawaii Tropical Botanical Garden is a 40-acre natural garden of tropical plants and a nature lover's paradise located in the Onomea Valley, about 5 miles North of Hilo, Hawaii. The Garden is home to over 2000 plant species, representing more than 125 families and 750 genera of tropical exotics. The garden has numerous trails, beautiful streams, waterfalls, a bird aviary, orchid garden and ocean vistas. There are nearly 200 species of palms standing at attention as you stroll along the tropical trails.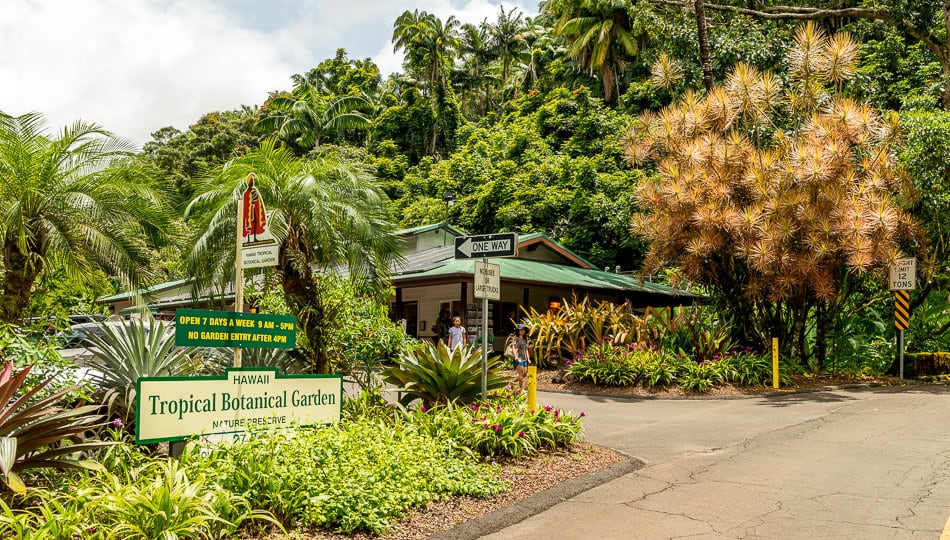 A nature preserve and sanctuary, visitors walk down a 500 ft landscaped boardwalk to the lower garden trails, waterfalls, and the ocean. There is a self-guided tour which takes about 90 minutes and the walking distance is slightly over a mile round-trip. The garden also sells tropical bouquets, shipped same day as being cut and arranged, clothing, souvenirs, jewelry, water and snacks in the visitor center. The trails are well maintained, but they can be wet and slippery, so we recommend bringing good walking shoes, insect repellent, and a bottle of water. If it's raining, they do provide umbrellas.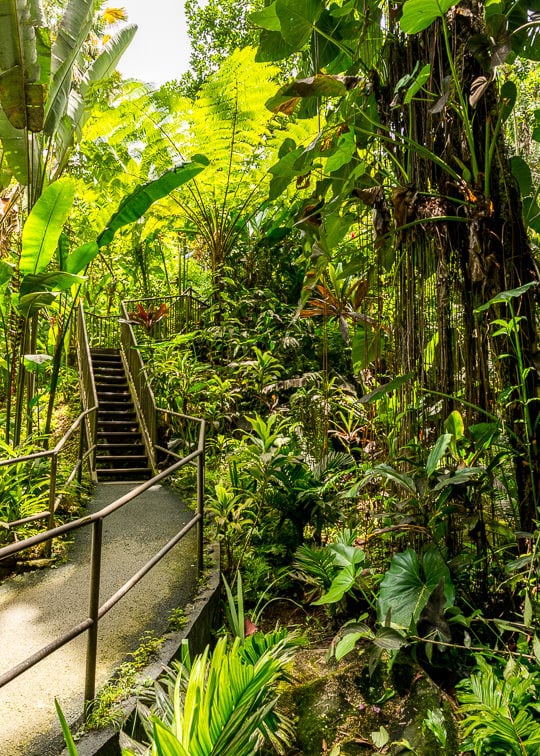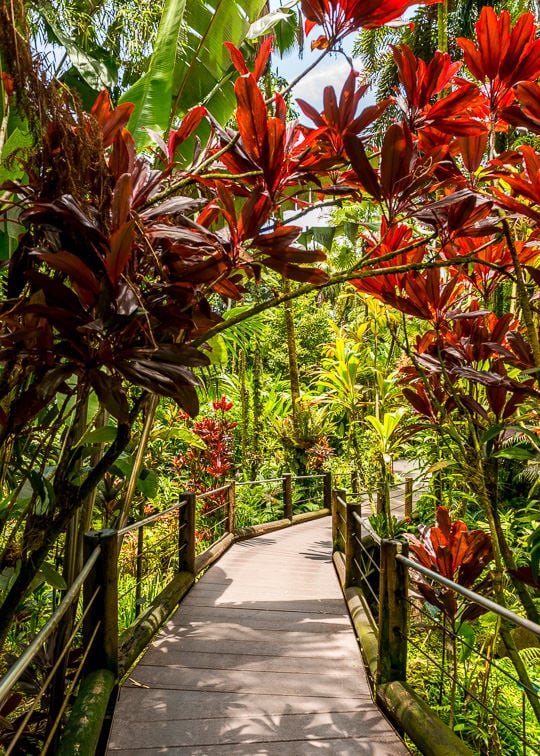 Hawaii Tropical Botanical Garden History
The garden was created by Dan and Pauline Lutkenhouse who discovered the beautiful 17-acre parcel in 1977. At its onset, the property was an impermeable jungle and Dan hand-cleared invasive trees, vines and thorn thickets as to not disturb treasured plants and tree roots. No tractors were used, and excess rock was moved by wheelbarrow. After 8 years of clearing, the garden unfolded tropical backdrops and even a three-tiered waterfall.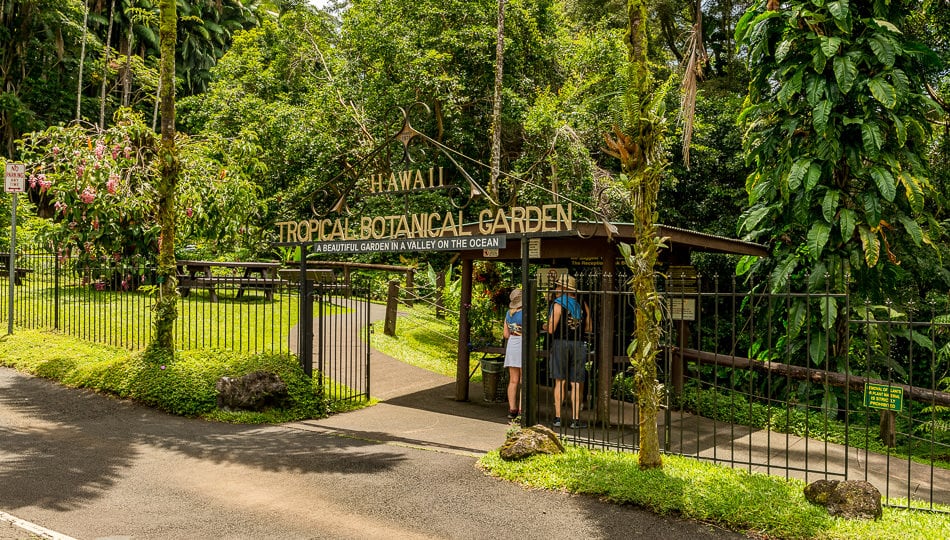 Hawaii Tropical Garden opened to the public in 1984. Today the Garden has 17 full-time employees and is financially self-supporting. To protect the Garden site, Dan and Pauline Lutkenhouse have established the gardens as a Scientific and Educational non-profit 501 (c)(3) corporation and have taken legal steps to insure the land will never be sold or commercially developed.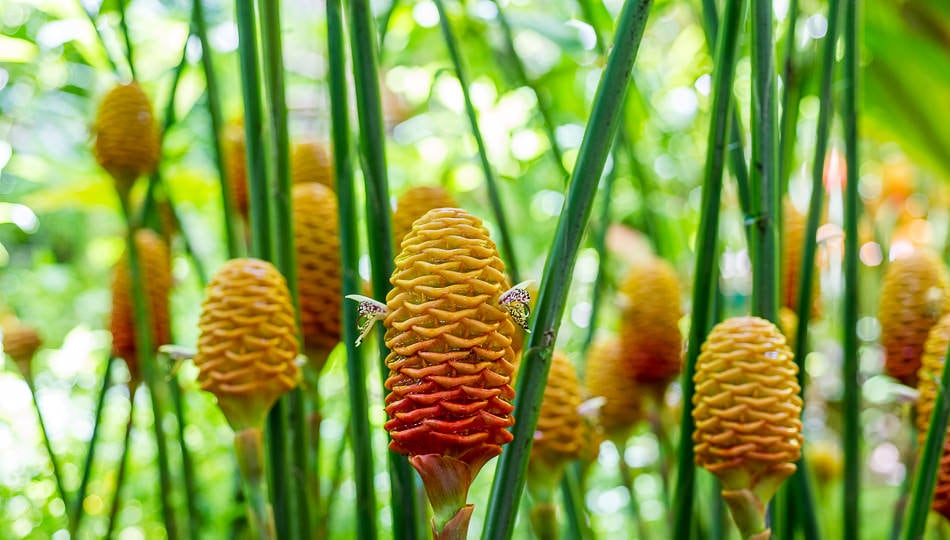 Onomea Bay History
Onomea Bay is full of interesting history with many stories about the area detailed on the plaques found throughout the garden. The most recognizable landmark of the bay was the Onomea Arch, carved out by the power of the Pacific. The famous landmark drew visitors to the bay for years, but fell during an earthquake in 1956 after standing for thousands of years. There is a legend that King Kamehameha actually created the arch by throwing a spear through the rock.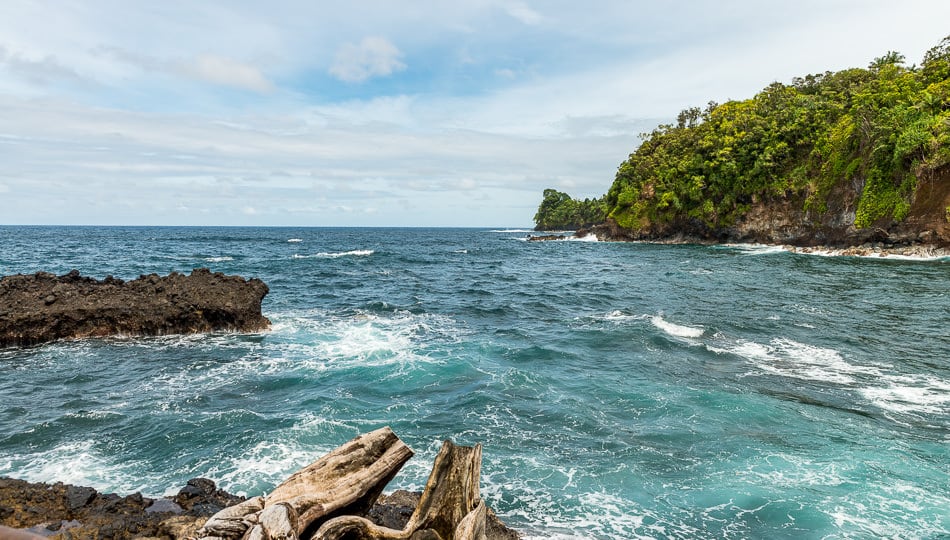 Onomea Bay was an old fishing village in the 1800's. As one of the Big Island's first, natural landing areas for sailing ships, it was then developed into the Onomea Sugar Mill exporting raw sugar. In the hills above the Hawaii Tropical Botanical Gardens you can see the relics of the old mill, rusty iron trestles and flumes where hand-cut sugar cane was floated to the mill then unrefined sugar was loaded onto donkeys and carried down to the dock.
Hawaii Tropical Botanical Garden Climate Zone
This beautiful garden is located in a Tropical, Continuously Wet climate zone, also known as a Tropical Rainforest Climate. This means that all twelve months of the year have mean temperatures that are warmer than 64 °F and all 12 months have average precipitation of at least 2.4 in. Other areas with similar global climates include Antalaha Madagascar; Limon, Costa Rica; and Salvador, Brazil.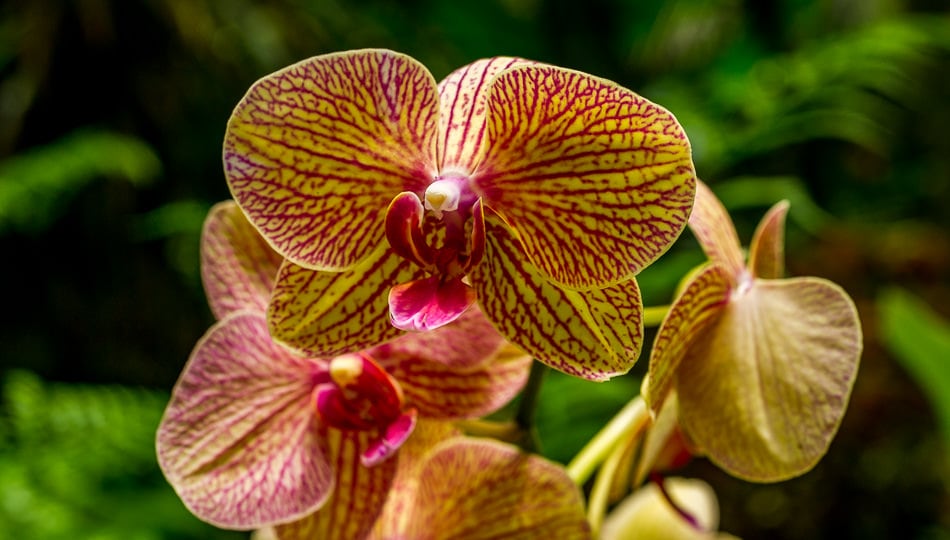 Hawaii Tropical Botanical Garden Hours, Admission, and Contact
Hours
Open Daily 9 am-5 pm
Admission
Adults $20, Children Age 6-16 $5
Free entry to children under 6 years of age
* Tour info and cost was accurate at the time of posting, but is subject to change.
Accessibility
The boardwalk down into the garden is not wheelchair accessible; however, they can provide a golf cart (extra fee) to transport wheel-chaired visitors up and down the boardwalk. Then a non-electric wheelchair can be used in the lower garden.
Contact
(808) 964-5233
Website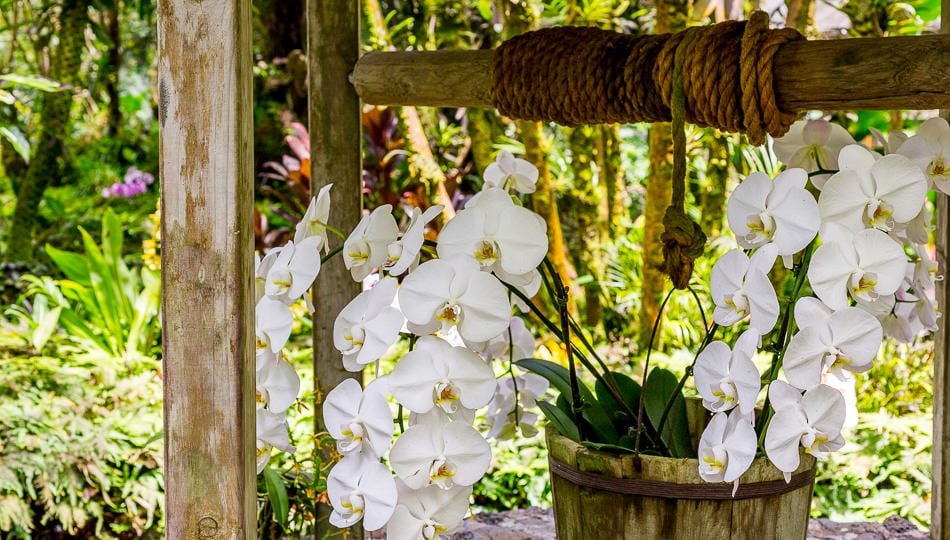 Hawaii Tropical Botanical Garden Map and Location
27-717 Old Mamalahoa Highway
Papaikou, HI 96781

This is one of our favorite Big Island Botanical Gardens and we couldn't stop taking pictures of all the cool flowers and plants, so here is a bonus gallery with more photos of the garden.