2022 Ironman World Championship in Kona
Big Island Guide Travel Guide
2022 Ironman World Championship 
The 2022 Ironman World Championship will be held in Kailua Kona, Hawaii on October 6th and 8th, 2022.  
This two-day event will have the professional women racing on Thursday, October 6, 2022 and the professional men racing on Saturday, October 8, 2022. The age groupers will be distributed between the two days. Currently everything is a go for these 2022 dates, but we will update this article if that changes. Covid could still impact the ability to gather and to participate in this event if new Covid precautions are required at the time of the event.
The next Ironman World Championship will be Hawaii's 44th time hosting the event. Held mainly in Kailua-Kona since 1981, the Ironman World Championship is considered the ultimate physical, mental, and emotional test of strength, resilience, and endurance in the world. Athletes ranging in age from 18-85, 100 professional qualifiers, and over 2,000 competitors will compete in the next Kona event and Big Island Guide will be there!
The world's best triathletes gather in Kona Hawaii each year to compete in this challenging and strenuous athletic competition. Qualification for the Ironman World Championship requires placement in other Ironman competitions or Ironman 70.3 races, of which there are around 50 such events worldwide.
Looking to Beat Recent Record Setting Performances
This year's athletes will have to work very hard to compete with 2018 and 2019's, record breaking performances. The pro competitors always show up in Kona with ambitious goals and we suspect this year will be no different. In 2018 they claimed 5 new course records, then broke some of those in 2019. Patrick Lange took the overall course record in 2018, with a time of 7:52:39, marking the first sub-8-hour finish in Kailua-Kona. Daniela Ryf set a new women's course record of 8:26:16 and a new record for the women's bike portion of the 2018 race. In 2018 Lucy Charles claimed the women's course record for the swim and Cameron Wurf set a new men's course bike record. Then in 2019 Jan Frodeno broke the previous year's overall course record with a lightning fast 7:51:13.
If you missed the 2019 Ironman World Championship read our recap here. The 2020 event was cancelled due to Covid and the 2021 event was moved to St. George Utah due to Covid related travel restrictions.
The Athletes
The athlete lineup is always impressive and full of strong contenders, we're excited to see who returns to Kona for a shot at winning this year's race.
Here were the 2019 Ironman World Championship Winners:
Men's Top 3
1. Jan Frodeno of Germany 7:51:13 – New Course Record! 
2. Tim O'Donnell of USA 7:59:40
3. Sebastian Kienle of Germany 8:02:04
Women's Top 3
1. Anne Haug of Germany 8:40:10
2. Lucy Charles-Barclay of UK 8:46:44
3. Sarah Crowley of Australia 8:48:13
Watching the Ironman World Championship
Watching these dedicated athletes train around the Big Island in the weeks prior to The Ironman Race is always inspirational and brings to light the immense amount of work that goes into performing at the top of the sport. Their incredible displays of form and strength on race day will awe you and the tremendously competitive field will keep you guessing until the last step who will rise to victory.
The Ironman Course in Kailua-Kona Hawaii
Held each year in Kailua-Kona on Hawaii's Big Island, the race includes a 2.4-mile ocean swim in Kailua Bay, 112-mile bicycle race along the Queen Ka'ahumanu Highway, and finishes up back in Kailua-Kona after a 26.2-mile run. This incredible endurance test is one of the most impressive and exciting triathlon races to watch. It's inspiring to see lifelong dreams come true and cheer on the amazing athletes who dare to challenge this brutal Ironman course.
For an understanding of how the race flows and how long each section takes, we can look at the men's pro winner and his timing. Jan Frodeno swam a 47:31, biked a 4:16:03, and ran a 2:42:43 for an incredible 7:51:13 finish time. Be aware that many road closures block direct paths into and out of Kona as well as all around the downtown area so getting around can take extra time. Click Here to See Previous Ironman Road Closure Information.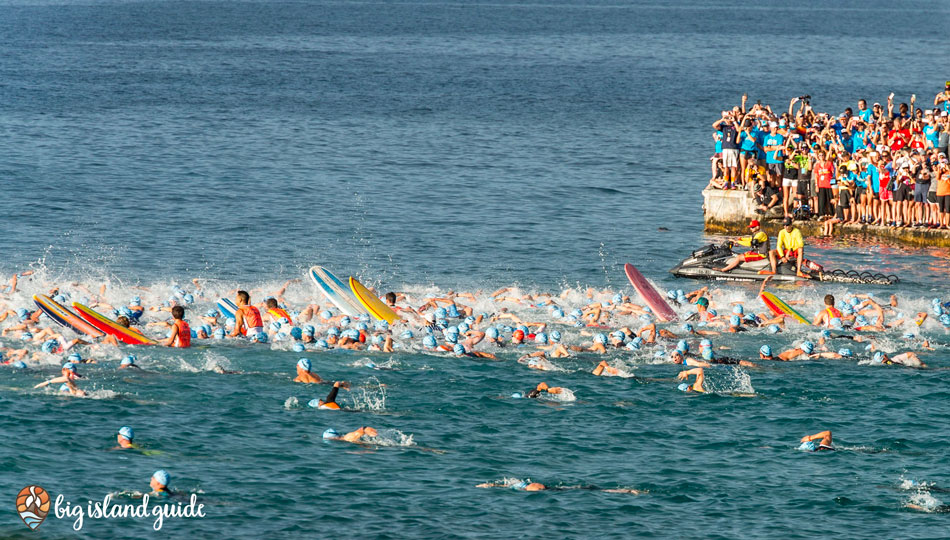 Swim Information
If you are here in Kona during the Ironman World Championship, then you will need to be up early to catch the start of the swim. The event kicks off in Kailua Bay, with the pro men's division starting first at 6:25 am and the pro women's starting at 6:30. Then, the age group starts will roll out in waves every 5 minutes from 6:55 am – 7:30 am. The pro men will finish swimming in around 47-55 minutes and proceed to the bike race.
Parking is nuts and the best spots fill up fast on race day, so heading down as early as possible is always advised. People start staking out spots as early as 4:30 am. There are several parks in downtown Kona as well as the sea wall lining Ali'i Drive that overlook the starting point for the swim in Kailua Bay. You can line up anywhere along here for a view of the swim portion of the race.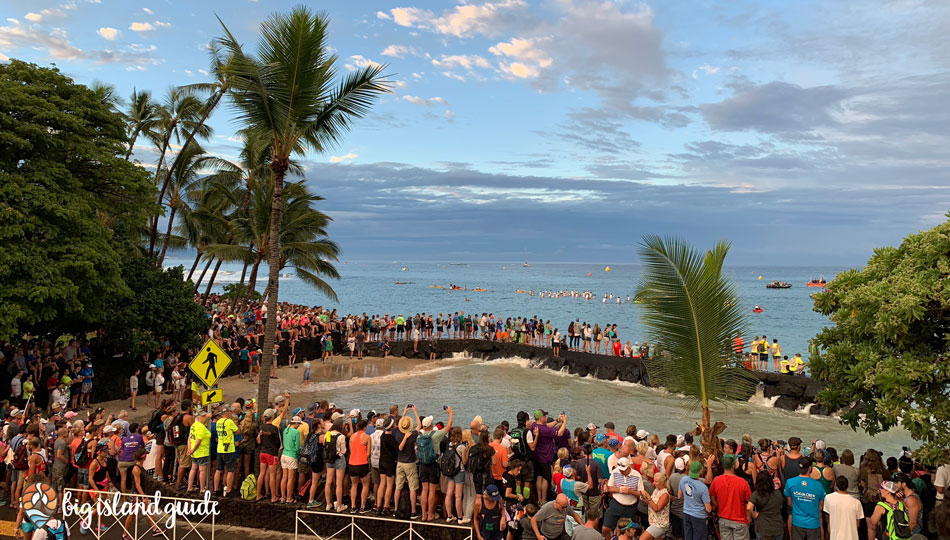 Bike Information
The bike race immediately follows the swim and competitors leave directly from the Kailua Pier transition area, heading up Palani Road, looping around to Makala Blvd and the Kuakini Hwy then racing along the closed Queen Ka'ahumanu Highway to Hawi on the northern tip of Hawaii and back. If you want to head up to the turnaround point you would want to take the upper Mamalahoa HWY 190 to Waimea, then take the 250 cut across that takes you over Kohala mountain into Hawi.
If you're not heading north, the best place to see the biking event is either from Palani Rd when they are leaving the pier area, along the Kuakinin HWY or along the Queen K as they head out of Kona. The pro men generally start to complete the bike portion of the race in around 4 hours 15 minutes and land back at the transition point around 11:30 am.
Run Information
The run starts from the Kailua Pier transition point and heads up Palani Rd, turning south on the Kuakini Hwy until Hualālai Rd, then continues onto Ali'i Dr for a turn around retracing it's path back to the Queen K Hwy for the long stretch up to the airport. It's pretty easy to catch a glimpse of your favorite racers along the run portion on Ali'i, and then you can grab a nice lunch by the water while they head north. The racers will turn around at NELHA and then make for the home stretch back along the Queen K Hwy and the hard earned finish line on Ali'i Drive.
The men's pro leaders will take about 2 hours 40 minutes on the run and will start to approach the finish around 2:15 pm. The finish to the Ironman World Championship is always an incredible event, packed with onlookers and if you want to get a glimpse of the winners, it's best to show up early to stake out a spot.
Ironman Finish Line Map

Ironman Raceday Coverage
If you aren't lucky enough to be in Kona for the event, you can still see live coverage and follow along. Watch Live on Ironman Now Facebook Channel
Get more information on Ironman's Website.