Big Island Bees
Big Island Guide Travel Guide
Visit the Big Island Bees Farm
Raw Honey is a gift from nature that has been revered for centuries across many cultures who view the honeybee as a symbol of strength, purity and honey as a medicine. If you think this sounds impressive and want to see what the buzz is all about, you can enter the world of bees and beekeeping at the largest, organic honey producer in the United States, Big Island Bees. A multi-generational, family run business, their apiaries started in Hawaii the 1970's and have grown to over 2,500 hives with around 125 million bees.
About Big Island Bees Honey
To produce just one pound of raw, organic Hawaiian honey, the bees fly across 48,000 miles of the Big Island's pristine and rare geography relishing its floral harvest – the result, remarkably pure and intense honey flavors unique to Hawaii.
Each of their honey varieties has a different texture, color and taste imparted by the type of nectar the bees harvested; with everything from Lehua flowers to Macadamia Nut Blossom lending their flavor. Don't forget about their tasting room where you can enjoy samples of these unique and rare honey masterpieces if you take the tour. Of special mention is their Ohi'a Lehua honey which is one of the world's rarest honeys, found only in Hawaii, and produced in late spring and early summer from Lehua blossoms in the Ohi'a forests of Mauna Loa.
Farm Hours
Mon-Fri 10am – 3pm
Beekeeping Tours
Big Island Bees offers a variety of experiences at their honey farm, from Beekeeping tours, to a museum and a farm store. Visitors can take a beekeeping tour (reservations required) to learn about the craft, its history, and have a front row seat in a screened in observation area where you can watch a live hive and learn how bees operate within the hive. The tour takes about an hour and is fun and informative for all ages. You also get a tasting of their delicious honey varieties included with the tour.
Tour Times
Mon-Fri 10am or 1pm
Check Availability or Book a Tour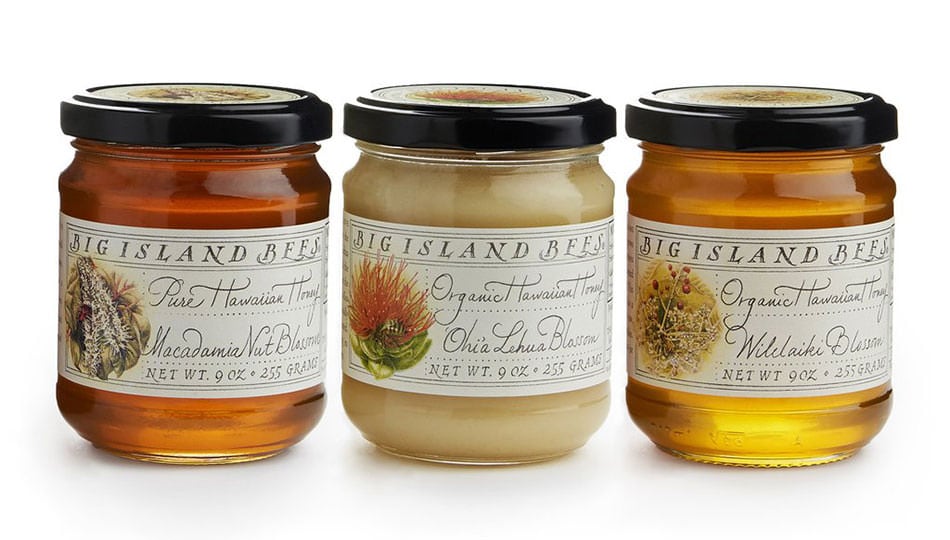 A visit to their museum offers historical photos and texts describing how honey was extracted from hives on cliffs long ago and tracking the progression to the modern day version of beekeeping practiced today. Bees have an ancient reputation as the bringers of order, and their hives served as models for temple design in many Mediterranean cultures.
Celebrating the bee's artistic majesty, a dedicated space in the museum includes "apisculptures" of honeycomb made as a collaboration between the bees and beekeeper. These amazing sculptures have been exhibited at the Guggenheim and Hirshhorn Museums.
Their gift shop offers local and bee-created products. Body Care Products such as Lehua Honey Bar Soaps, Cuticle and Hand Salve and Healing Bee Balm. Or find honeycomb candles, culinary confections and, of course, jars of Hawaii made honey, the Hawaiian Honey Sampler and Organic Hawaii Cinnamon.
Big Island Bees Location
82-1140 Meli Road #102
Captain Cook, HI 96704
* This post may contain affiliate links which means we receive a small commission for each completed booking or purchase made through our site. This is done without any additional cost to you. By booking through our website you help us to provide free information to help you and others plan their perfect Big Island vacation. Thank you for your support!