Explore Hawaii's Kaumana Cave
Big Island Guide Travel Guide
Explore Kaumana Cave on the Big Island
The Big Island is one of the best places on Earth to explore the underworld.
With intense volcanic activity occurring over millions of years, there are hundreds of underground lava tubes, caves, and volcanic formations to explore and enjoy, making Hawaii's largest island the perfect destination for those who love to hike and spelunk through the depths of the world.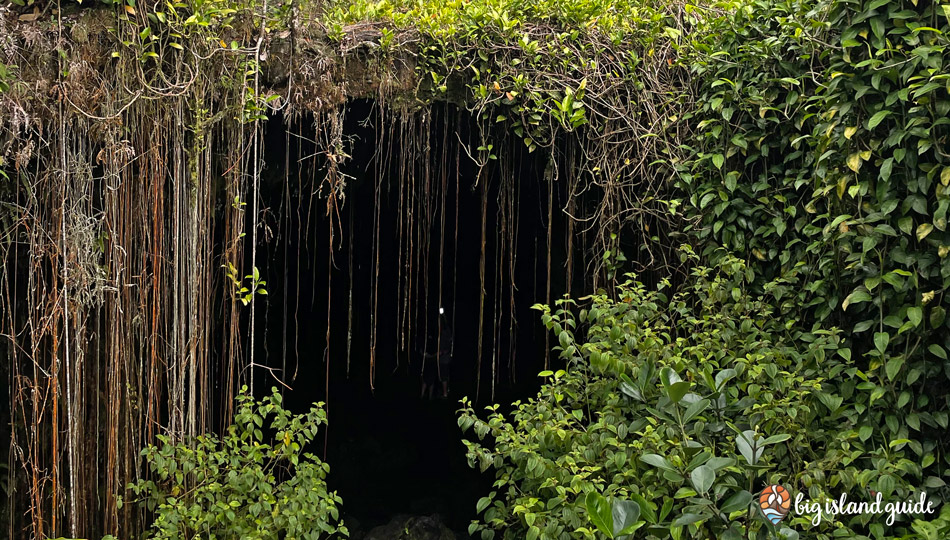 Along the Big Island's eastern side is one of the largest and most extensive underground lava formations in Hawaii in Kaumana Cave. Over 2 miles long and well-formed, it's one of the best places on the Big Island to explore a cave with the whole family. There is a small park area with restrooms and a picnic table just before the entrance to the cave, so make a pit stop if you need to. Cool during the summer heat and a respite from Hilo's constant rainfall, the cave has concrete access stairs that make for a quick, easy descent into the cave opening. To the left as you go down, is a smaller cave opening and to the right is the main section of the cave.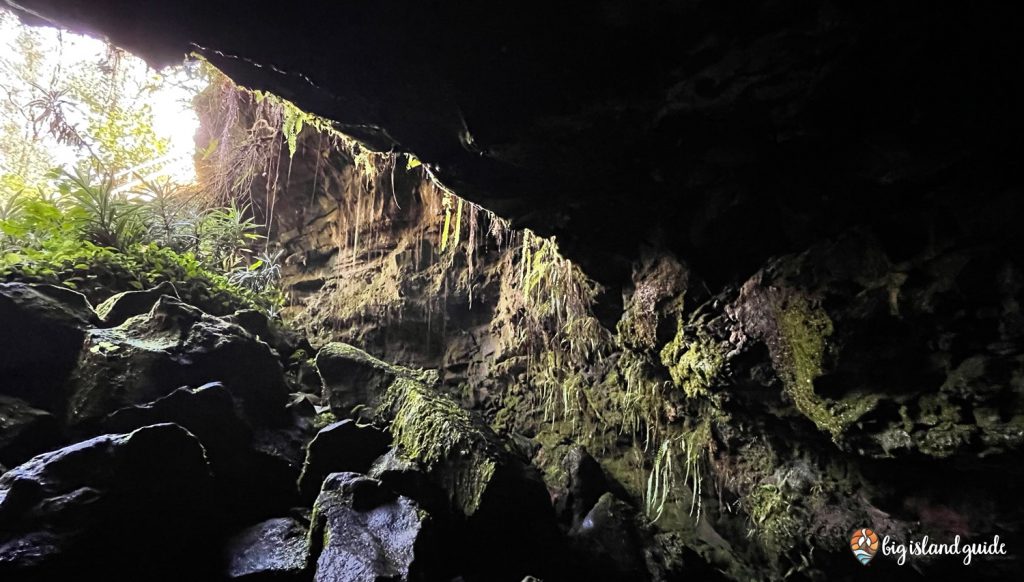 Most visitors spend about 15 minutes exploring the entrance area that is naturally lit with a little help from cell phone lights before heading on to their next activity.  Those who are more adventurous can strap on a headlamp and explore nearly 2 more miles of accessible, unique underground areas. Do not go further than the natural light reaches if you do not have a high powered flashlight or headlamp. It get's dark quickly as soon as you round the first bend and the light of a cell phone won't illuminate much. If you didn't pack headlamps with you, Costco usually has a three pack that you can pick up inexpensively before you head to the caves.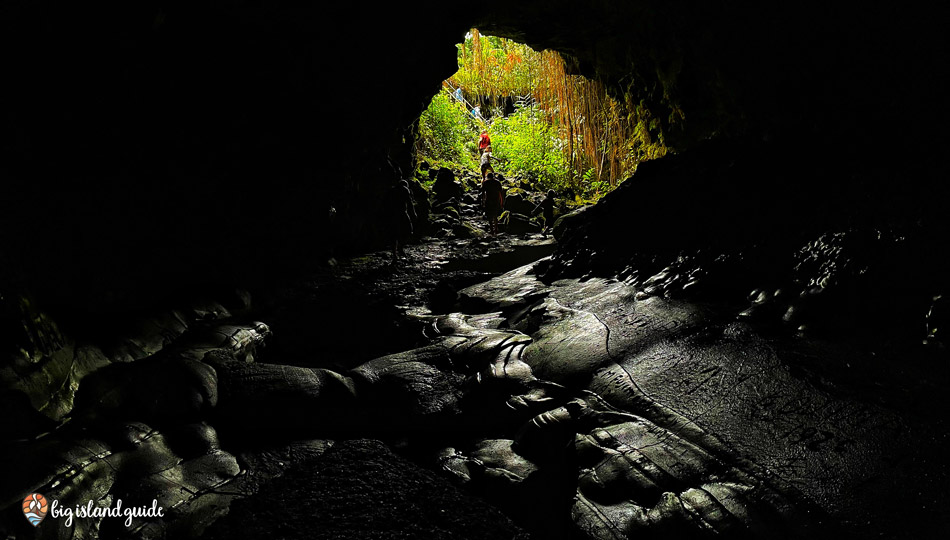 The cave is slippery so tennis shoes are recommended. There are lots of interesting lava formations to see throughout the cave. I shouldn't have to mention this, but as you can see in the next photo, vandalism is a problem here, so please don't carve your initials into the lava rock or break off pieces of the flow.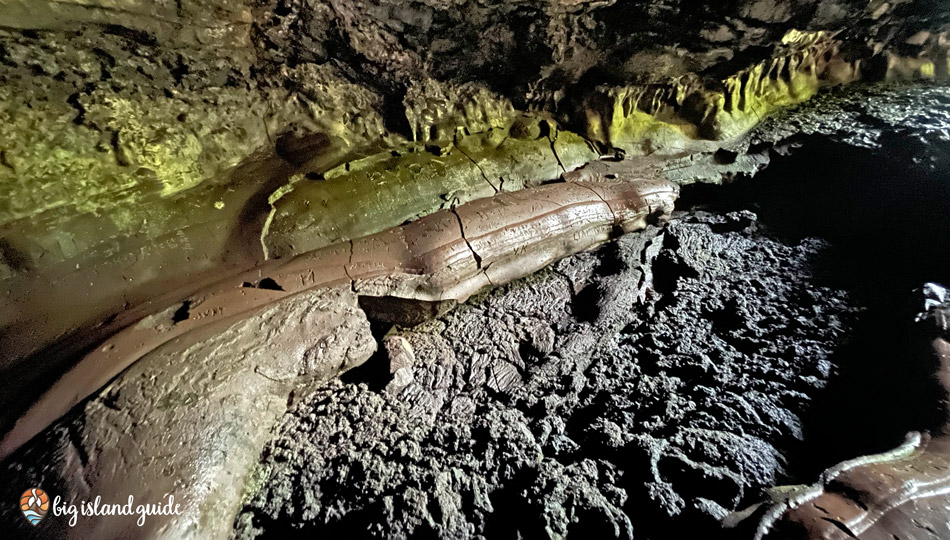 For extreme spelunkers, you'll need to plan ahead to explore more of Kaumana Cave. Because much of the cave is under private land, you'll need to get permission from the landowners to explore further in. For best results, you should bring a buddy (preferably one who isn't claustrophobic), a light water resistant jacket, drinking water, and at least three good sources of light. There is some climbing, ducking and crawling involved in deeper exploration, so be prepared (long pants or knee pads are helpful).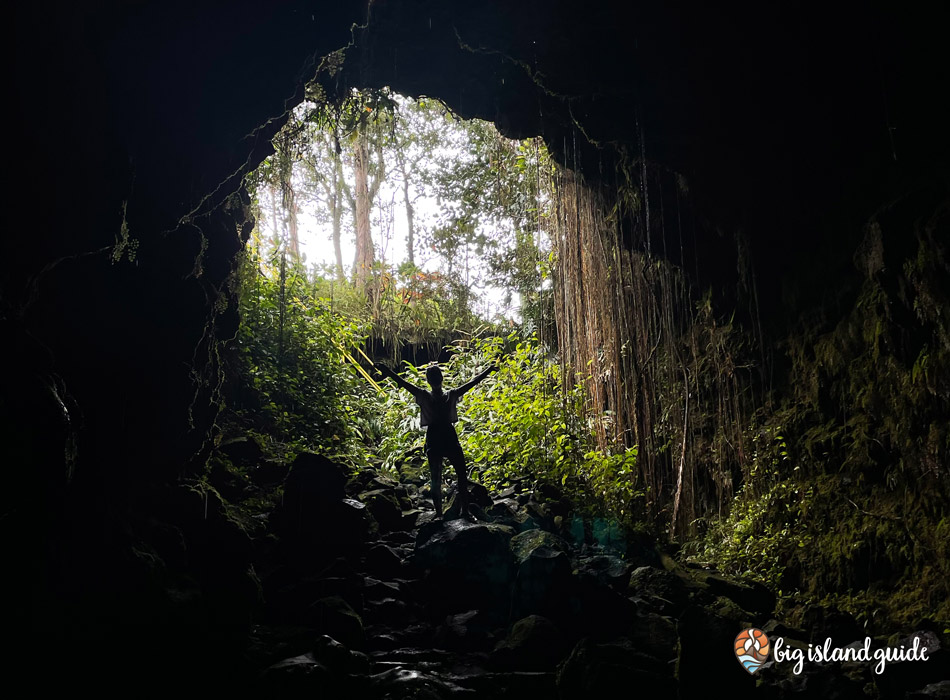 Formed after a significant lava flow from Mauna Loa threatened the city of Hilo in 1881, Kaumana is one of the best destinations to learn and witness the impact of volcanic activity and how these lava flows can destroy as well as create. If you're a cave junkie and are planning a visit to the Big Island, you won't want to miss Kaumana Cave. Exploring caves can be dangerous, so exercise caution at all times. Also, if it is raining hard, I don't recommend going beyond the cave entrance due to the chance of flooding.
Location and Map for Kaumana Cave