Visit Maniniowali Beach at Kua Bay
Big Island Guide Travel Guide
Maniniowali Beach at Kua Bay Overview
Maniniowali Beach at Kua Bay is part of Kekaha Kai State Park and is a picturesque Big Island beach. The locals call this gorgeous little span of soft white sand and crystal-clear turquoise waters, Kua Bay; but, however you want to name it, the experience of boogie boarding, snorkeling and swimming here will be unlike any other.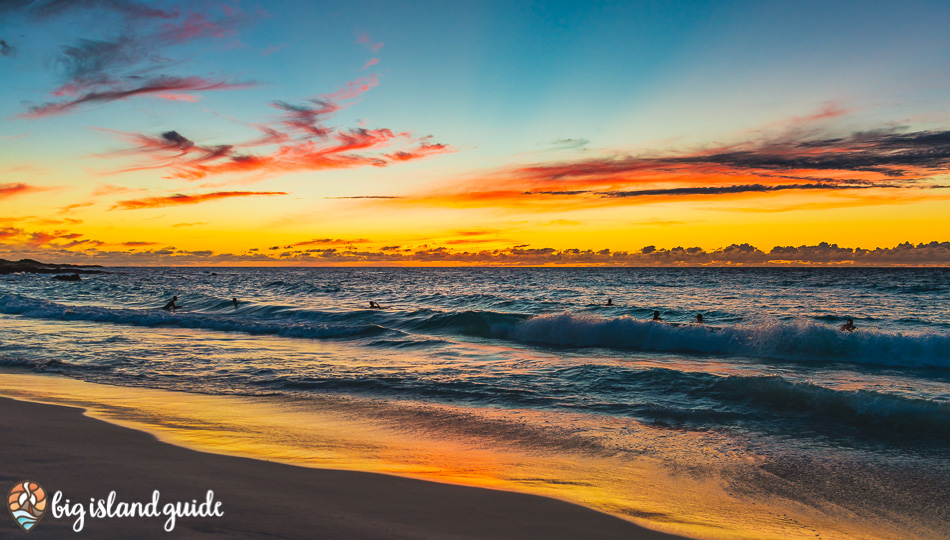 The bay has three sandy crescents of beach, separated by lava rock formations. The state parks installed a set of stairs down to the beach in 2018, however, they are on the south end of the beach and during the winter months this section of beach can get cut off from the main section beach, so you may still have to hike down a small outcropping of lava to reach the beach.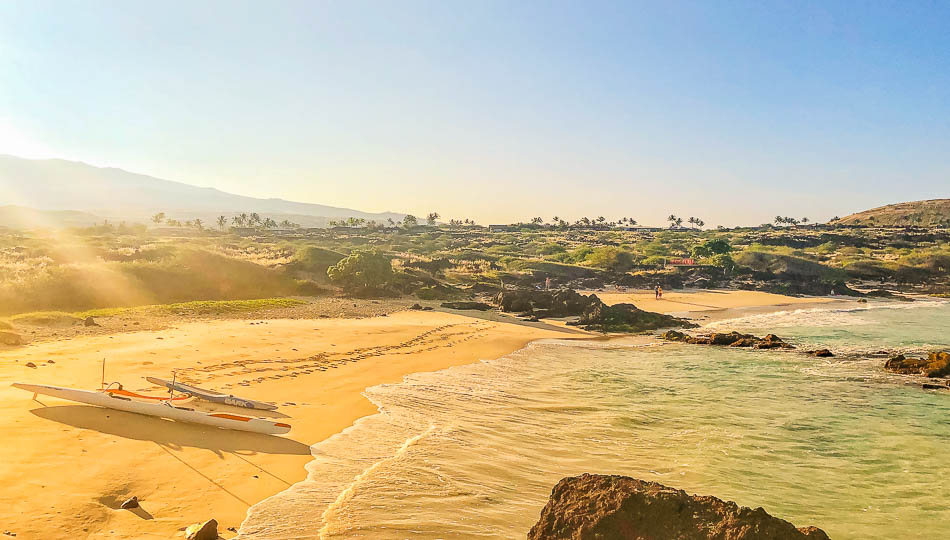 Maniniowali is a popular beach for both locals and visitors and can get busy on the weekends and during peak seasons. If you're trying to avoid crowds, it's best visited early in the day, the morning often lends itself to calmer surf without the crowd. With an expansive view of the ocean, it's a great beach to spot dolphins and (during the winter months) whales breaching the ocean's surface. We've even been lucky enough to see Hawaiian Monk Seals resting on the farthest crescent of this beach. Sunsets are also nice at Kua Bay so a later afternoon visit can be quite rewarding as well.
Maniniowali Beach is a sunny stretch of beach with very little natural shade, therefore a hat and reef-safe sunscreen is advised, also bringing an umbrella for an extended stay is highly recommended. Bringing along plenty of fresh drinking water and snacks will make your day at the beach more enjoyable too. There are a couple of shaded areas with picnic tables near the entrance, above the beach, and also bathrooms and outdoor showers.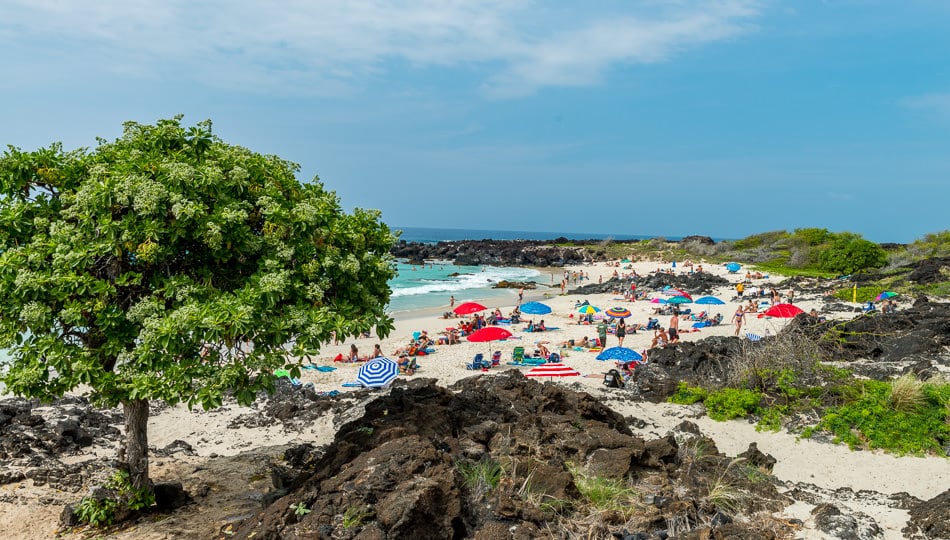 Kua Bay Beach Amenities
Showers
Restrooms
Limited Picnic Tables
Parking
Lifeguard Tower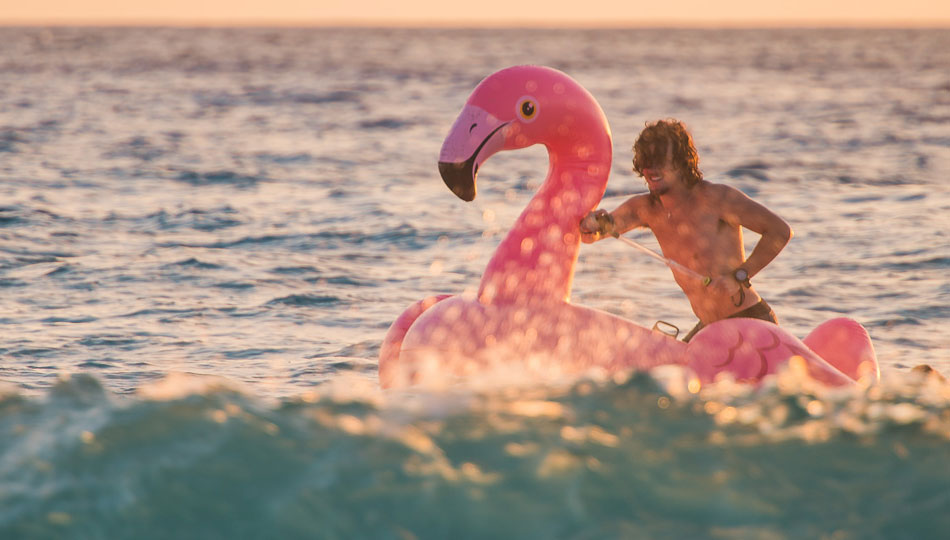 Maniniowali Beach Activities at Kua Bay
If you are an experienced snorkeler and it's very calm out, there's a really interesting reef with canyons off the North end of the bay. You have to swim around the rocky point to get there and it can get pretty strong surges, so a calm morning is the best time for snorkeling here. We've seen turtles, dolphins, eagle rays, sharks, and quite a few fish while snorkeling in this area and the reef itself is worth a look.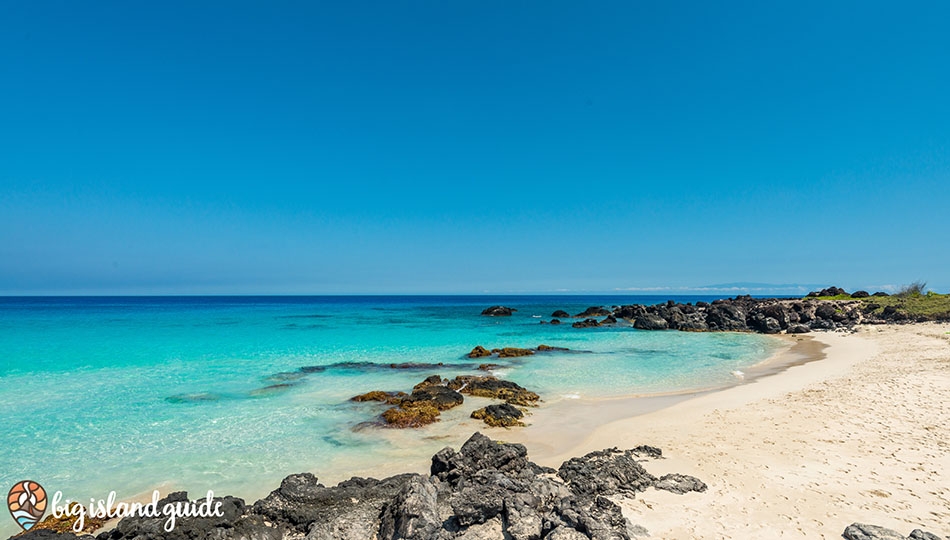 Maniniowali is sometimes glass smooth with calm and gentle waves, however it can also get very large waves and strong currents. A visit during the spring, summer or fall is ideal for those wanting to enjoy the soft white sand abundant along Hawaiian shores. The summer is often calmer and bigger surf tends to be more common in the winter months. Hawaii County finally got the funding approved to install a lifeguard tower in July of 2019 so there re now lifeguards on duty at Kua Bay during the day.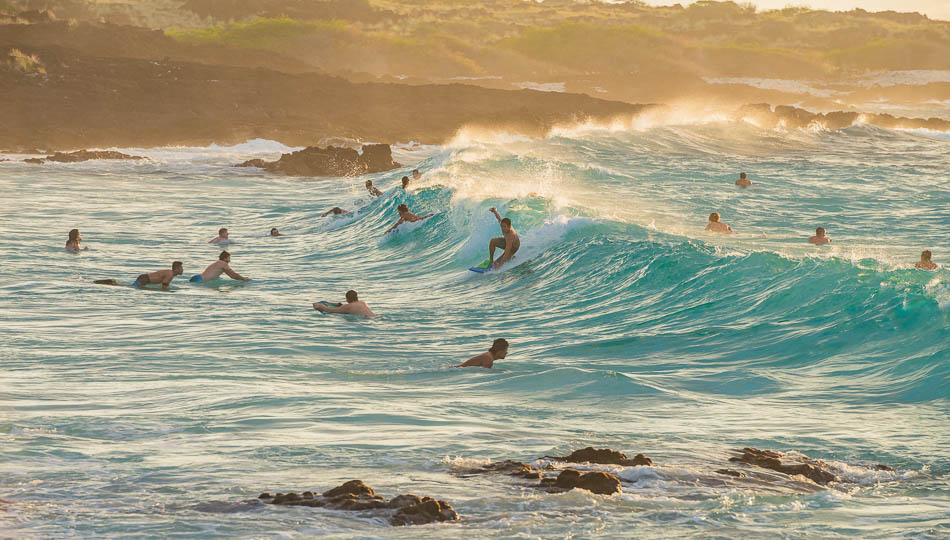 Maniniowali is a renowned beach for boogie boarding. There are often fun sized waves that take a little skill and practice to ride. Be aware that the shore break and currents can be strong and some ocean knowledge is advised to play in the surf. Even if you see many people swimming and boogie boarding during big swells, keep in mind that most of them are locals who know the water and conditions at Kua Bay very well. If you are not an expert swimmer, don't go out in high surf.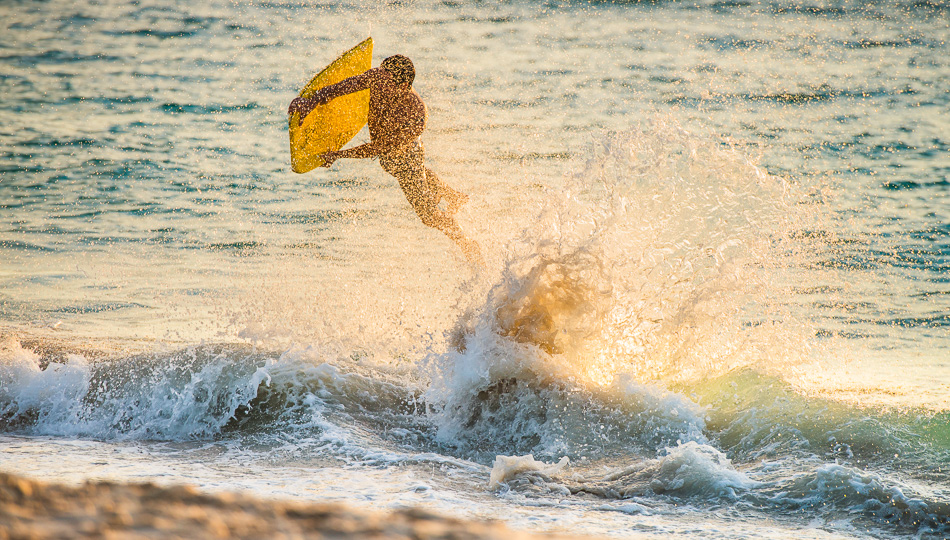 Be aware of rocks in the shallows near the middle of the beach when boogie boarding or body surfing, especially during winter months. When strong currents wash the sand away, it exposes black lava rock, making it necessary to hike across the rocks to get to where you can enter the water. Also in the winter, the water can get very rough with large swells pounding the shore, so you should watch conditions closely before going in the water. Even if it's too rough to swim, it's always a treat to relax on shore and watch the locals out riding the waves.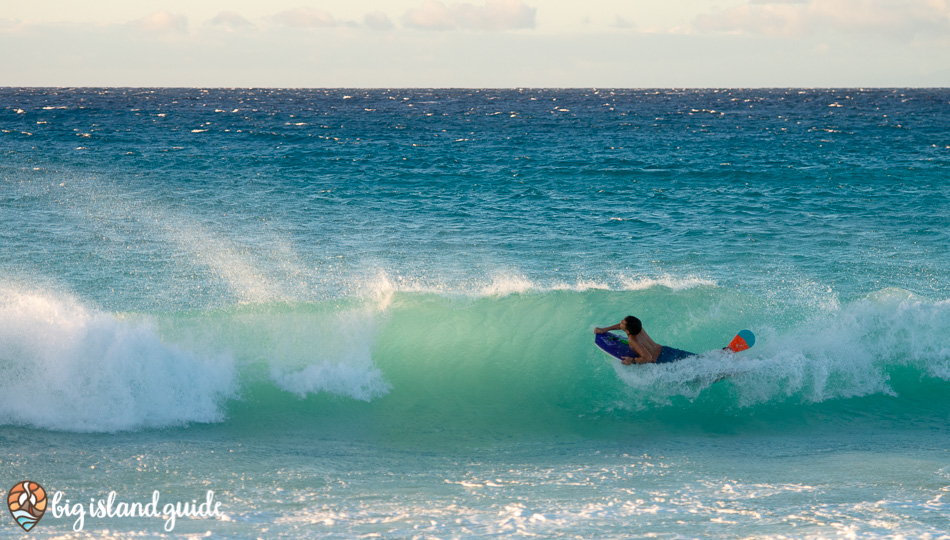 Directions to Maniniowali Beach at Kua Bay
Maniniowali Beach is one of the nicer Big Island beaches near the Kailua-Kona area. If you arrive later in the day, parking can be congested, especially on weekends. As you approach the beach you may see cars lined up and down the road on both sides. You may have to walk down the road a bit, but don't worry; the walk will be worth it once you cool yourself off in the sparkling water!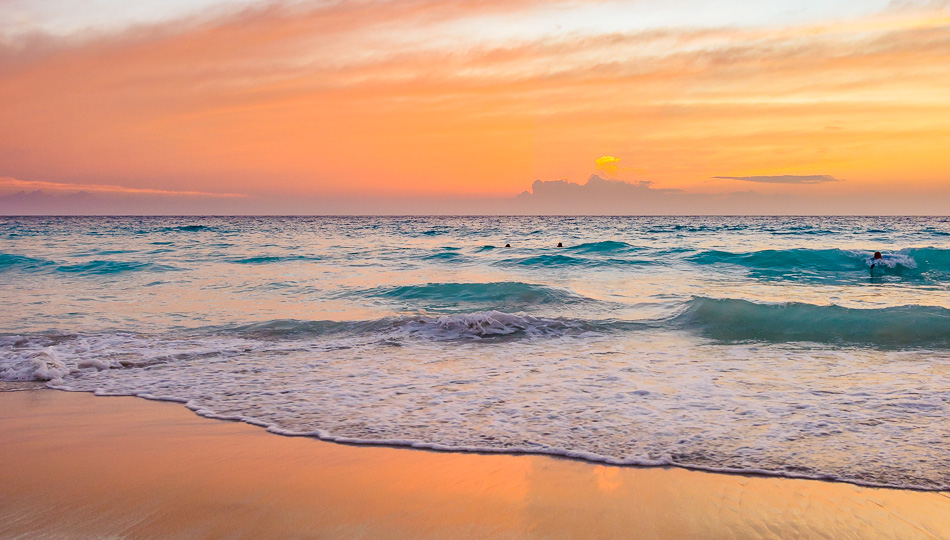 Kua Bay is located just 12 miles north of Kailua-Kona along the Kohala Coast between the 88 and 89-mile markers on Hwy 19 right across from the entrance to West Hawaii Veteran's Cemetery. Follow the road about a mile to the beach. There is a gate at the entrance that opens at 8 am and closes at 7 pm. Because this beach is so popular, plan to arrive early. Restrooms, drinking water, and showers are at the beach end of the parking lot. There are now stairs that will take you down to the southern side of the beach or a short walk over lava rock from the northern side to the sand.
Maps of Maniniowali Beach at Kua Bay