Kohala and Waimea Farmers Markets
Big Island Guide Travel Guide
Overview of Kohala and Waimea Farmers Markets
Located on the northwest portion of the Big Island, Kohala, was named after the dominating volcano Kohala Mountain, the oldest of Hawaii Island's five major volcanic mountains – one of the five ancient divisions of the island called moku. In ancient Hawaii, the land areas were large enough that the ruling king enlisted the help of independent High Chiefs in each area to help rule the land.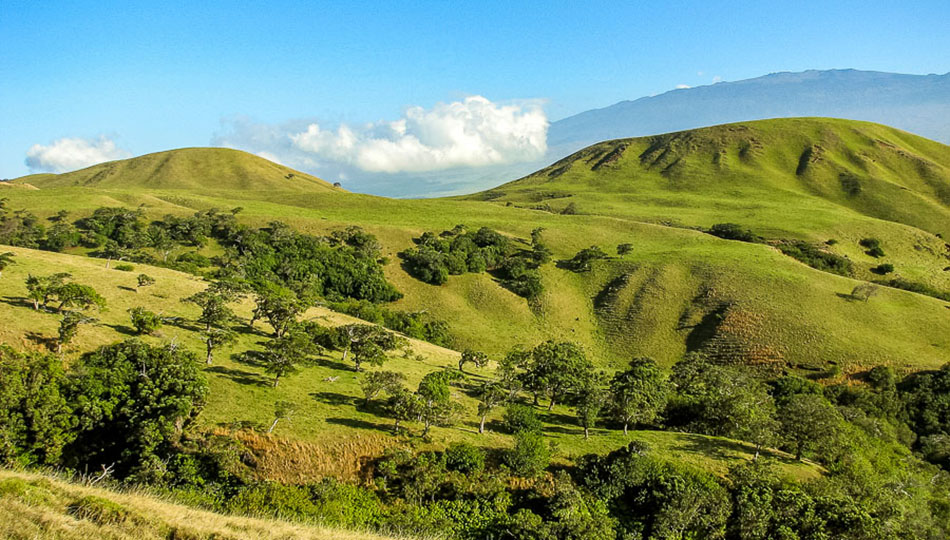 Today, the areas are called North Kohala and South Kohala, two districts within Hawaii County. North Kohala encompasses the coastal areas and Kohala mountain North of Kawaihai, including Halaula, Hawi, and Kapaau collectively. Annually, the northern area, near the summit of Kohala Mountain receives approximately 150 inches of rain. These varied climates from coast to crest allow for a bounty of produce and healthy grass-fed livestock.
South Kohala is made up of the western shore that is commonly known as the Kohala Coast and the arid plains above the coastline. The coastal area starts at Kawaihai and continues down through Puako and the Waikoloa Resort Area hosting many of the Big Island's most luxurious resorts. The plains above are home to the bedroom community of Waikoloa Village and the cattle and agricultural land of Waimea. This agricultural connection makes for a great farmers market community.
Waimea Farmers Markets (Kamuela)
Waimea Town Market
Saturdays 7:30 am – Noon
Parker School
65-1224 Lindsey Rd
Waimea HI 96743
Website
This famers' market is a smorgasbord of farm fresh vegetables, coffee/tea, pastries, juices, plants and flowers, even prepared foods. It also features specialty booths filled with everything from handcrafted soaps and lotions to specialty chocolates, teas and pies. The Waimea Town Market has the kind of variety to satisfy everyone. Usually easy to access and not too crowded.
Kamuela Farmers Market
Saturdays 7:30 am – 1 pm
67-1319 Pukalani Road
Kamuela HI 96743
Website
Taking place every Saturday at the historic Pukalani Stables, the Kamuela Farmers Market has a wonderful array of produce, botanicals, meats, salts, soaps, cupcakes and even a Pooch Mobile to wash your pet while you are there. (Yes, leashed dogs are welcome!)
If you're looking for locally crafted jewelry, unheated and unfiltered honey or even a self-portrait, this is the market that has it all. If you get hungry while you are there, indulge in some barbeque sliders, ribs or burnt ends from locally grass-fed beef cattlemen. This market also has a wonderful array of orchids and plants as well to decorate your home both inside and out. Live music is featured every Saturday and there are both indoor and outdoor picnic tables and plenty of parking. Stop into the Paniolo Heritage Center museum, free of charge during market hours.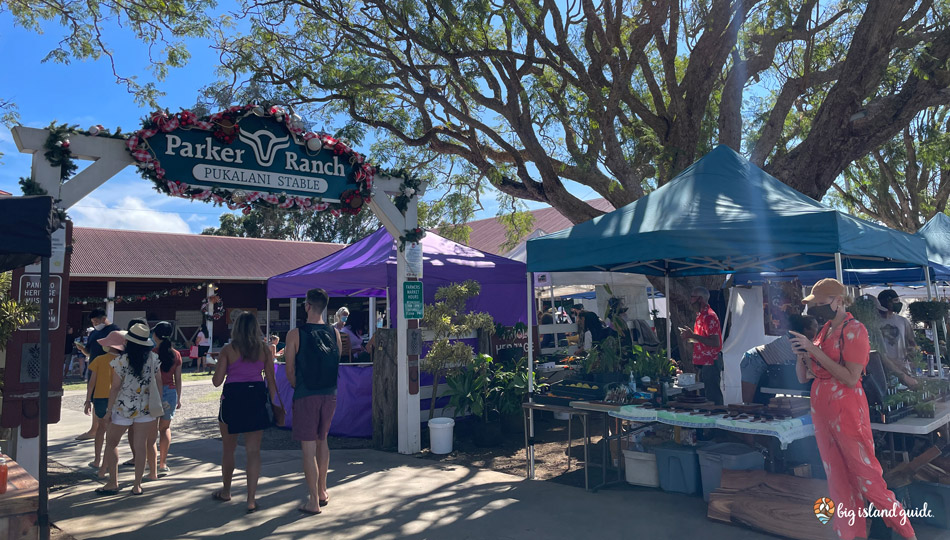 Midweek Waimea Farmers Market
Wednesdays 9 am – 4 pm
67-1319 Pukalani Road
Kamuela, HI 96743
Website
Oops, did you miss the Farmers Market over the weekend? No problem, just go to the Midweek Waimea Farmers Market. Located at the historic Pukalani Stables on famous Parker Ranch, this unique farmers market, showcases local produce and meats from over 30 vendors: local farmers and ranchers, artisanal foods from passionate chefs, and local talented artists sharing the beauty of Hawaii in their work.
This great market started up in 2011 with a goal of creating a midweek marketplace for local vendors to share their goods on a week day. It has grown significantly and is now a busy market with a vibrant community of vendors. The venue offers picnic tables, running water, restrooms, and shade as well as plenty of parking and covered shopping.
Located at the Parker Ranch's Pukalani Stables, you can stop into the Paniolo Heritage Center museum, managed by the Paniolo (Cowboy) Preservation Society. The museum is free of charge during market hours. The market helps support the preservation and education efforts of the historic stables.
Kohala Farmers Markets
Hawi Farmers Market
Saturdays 8 am – 12:30 pm
55-514 Hawi Rd, Hawi HI 96719
Located right across from its previous location under the big Banyan tree, the new Hawi Farmers Market can be found at the Kohala Village HUB entrance in the center of town. This market is successfully connecting local produce and products to the community. The wide selection at the Hawi Farmers Market is a truly unique experience, you'll regularly find produce, baked goods, artisan bread, honey and intricate jewelry. This market is a delectable opportunity to meet the local producers of some of the freshest food on the island. For those that love handmade items, check out the masterpieces and one of a kind finds. The fresh jams are an absolute necessity to spice up your breakfast.
Kings' Shops Farmers Market
Tuesdays 9:00 am – 2:30 pm
250 Waikoloa Beach Drive
Kohala Coast, HI 96743
Website
Located in the Kings' Shops is their Tuesday King's Shops Farmers Market. The market features locally grown fruits and vegetables along with homemade jams and jellies, macadamia nuts, breads and pastries. Enjoy noon hour entertainment while you shop and eat. Many cultural activities are offered during market time include lei making, wood carving and hula dancing. There's something for everyone at the Kings' Shops Farmers Market.