Volcano Winery
Big Island Guide Travel Guide
When traveling to Hawaii Volcanoes National Park, make it a point to stop at Volcano Winery for nosh and libation. This family-run winery's atmosphere has just the right balance of yin and yang creating a unique array of wines and teas. Taste local wines inspired by the harvest of the Big Island.
Founded just over 15 years ago by retired veterinarian Lynn "Doc" McKinney, the winery was sold in 1999 to Del Bothof who still runs the winery today. Receiving over 40,000 visitors per year, the Volcano Winery is adjacent to Hawaii Volcanoes National Park and surrounded by the Volcano Golf Course. The winery is one of only three commercial wineries in the state of Hawaii and the first founded on the Big Island, perched at 4,000-feet elevation along the slopes of the active Kilauea volcano. It is the southernmost winery in the United States.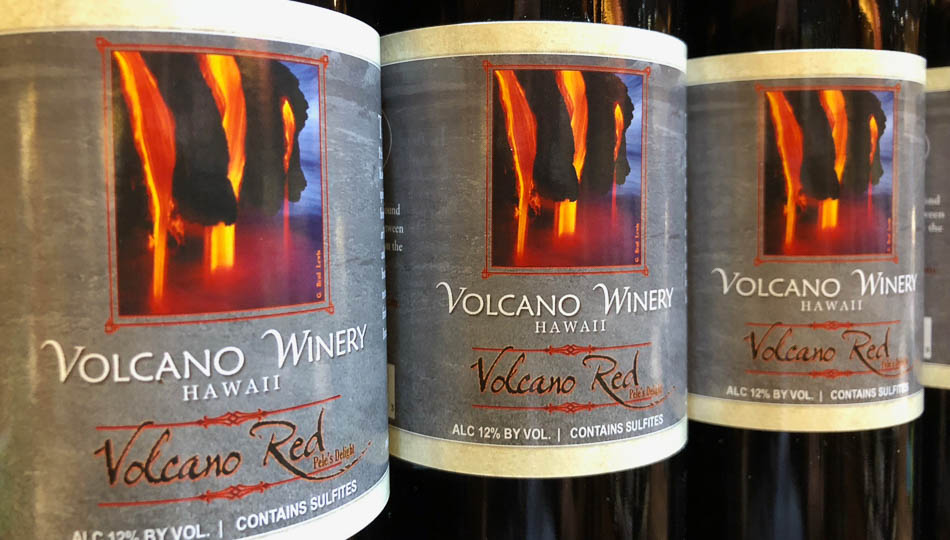 The main building, which looks out over the grape vines and onto the golf course, houses the gift shop and tasting counters. Paintings, jewelry, hand-carved koa wood pieces and Kona coffee are offered along with a chance to taste the wines.
Small but mighty, this winery has carved out a style all its own by blending local tropical fruits like starfruit, lilikoi (passion fruit), papaya, yellow guava, jaboticaba berry, traditional symphony grapes transporting the oenophile into another dimension.
Prefer tea with honey when you have a fever? Their 'Infusion' wine blends soft tea tannin, Macadamia nut Honey and the Volcano Winery Estate's own organically grown black tea creating a light, crisp aperitif. This unique blend was a Bronze medalist in 2010 at the San Francisco International Wine Competition.
The Symphony Mele, ("mele" means "song") is a semi-sweet white wine, with a smooth sesame finish. It beat out 3,000 other wines for the gold medal at the 2004 Finger Lakes International Wine Competition and was a bronze medal winner in 2012.
In honor of the fiery goddess Pele, their Volcano Red celebrates the ruthless power of the volcano with a blend of exotic island jaboticaba berries, black cherry and cranberry with a peppery finish. This wine of the gods won bronze at Finger Lakes International 2012, 2013 and 2014 respectively.
Since it first started some 25+ years ago the Volcano Winery has grown in size and blends with a continued commitment to produce unique, award-winning wines made with Aloha! Although they are the youngest and smallest in the state of Hawaii, the blends they bring in celebration of Hawaii's bounty coupled with Kilauea as their backdrop makes them stand alone amongst the competition.
Contact
Website
Location
35 Pii Mauna Dr
Volcano, HI 96785