2019 Ironman World Championship Recap
Big Island Guide Travel Guide
2019 Ironman World Championship Kona Hawaii
The 2019 Ironman World Championship was Hawaii's 43rd time hosting the event. Held annually in Kailua-Kona since 1981, the Ironman World Championship is one of the most physically and mentally challenging tests of strength and endurance in the world. With the best triathletes and age groupers ranging from 18-85, nearly 2,500 competitors from more than 80 countries competed on October 12, 2019 and Big Island Guide was there.
2019 Ironman World Championship Overview
Looking to Beat 2018's Record Setting Performances
The 2019 competitors had to work very hard to compete with 2018's, record breaking performances. The pro competitors always show up in Kona with ambitious goals. In 2018 they claimed 5 new course records. Patrick Lange claimed the overall course record, with a time of 7:52:39, marking the first sub-8-hour finish in Kailua-Kona. Daniela Ryf set a new women's course record of 8:26:16 and a new record for the women's bike portion of the race with a split of 4:26:07. Lucy Charles claimed the women's course record for the swim with a split of 48:13. Cameron Wurf set a new men's course bike record with a split of 4:09:06.
The 2019 Athlete Line Up
The 2019 lineup did not disappoint and shaped up to be an impressive field, full of strong contenders. In the women's division, Daniela Ryf (SUI), Lucy Charles (GBR), Kaisa Sali (FIN), Sarah Crowley (AUS), Anne Haug (GER), Sarah True (USA), Mirinda Carfrae (AUS), and Heather Jackson (USA) were the names on everyone's lips leading up to race day. Ryf and Charles set themselves apart during 2018's race with their record breaking swim and bike splits.
Everyone expected to see strong performances in the men's division from Patrick Lange (GER), Jan Frodeno (GER), Sebastian Kienle (GER), Patrik Nilsson (SWE), Bart Aernouts (BEL), Tim O'Donnell (USA), Braden Currie (NZL), David McNamee (GBR), and Cameron Wurf (AUS). Patrick Lange and Cameron Wurf grabbed course records in 2018, and Jan Frodeno was back on the course after an injury sidelined him in 2018, so it was sure to be a competitive race.
2019 Ironman World Championship Race Recap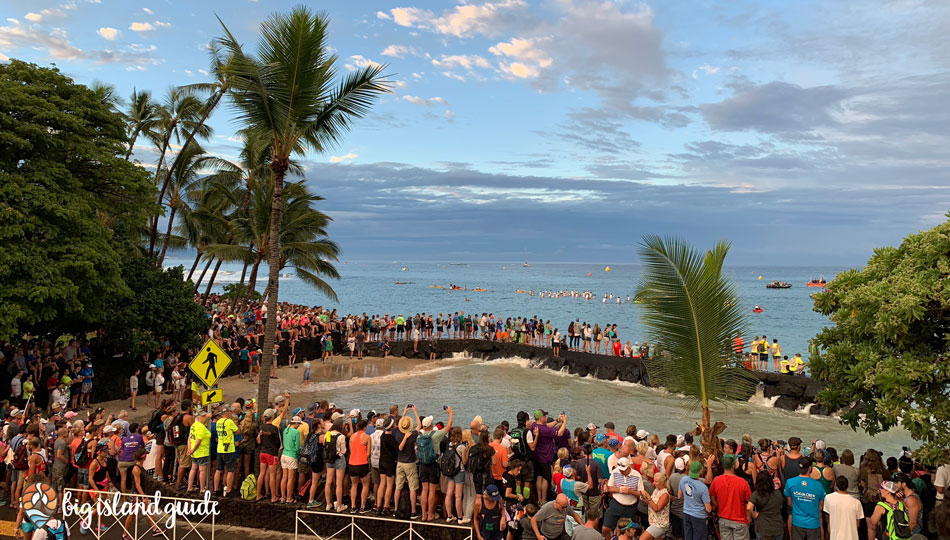 The race started as many expected with Lucy Charles-Barclay and Lauren Brandon leading the women's swim and Josh Amberger and Jan Frodeno getting out in front of the men's group. What wasn't expected was that there was a good size pack that stayed close on the leader's heels, in spite of the choppy course conditions. As athletes streamed out of the water, the field quickly became crowded with over 45 athletes all within a narrow 5 minute gap, all starting the bike portion of the race.
The men's bike race was close throughout with several large chase groups forming up behind the leaders. Maurice Clavel, Josh Amberger, Tim O'Donnell, Jan Frodeno and Alistair Brownlee were at the front of the bike portion in the turn, with O'Donnell, Frodeno and Brownlee quickly pulling ahead on the return stretch back to Kawaihae. Ultimately Frodeno, O'Donell, Wurf and Kienle would finish the men's bike section first.
Lucy Charles-Barclay dominated the women's bike race with nearly a dozen women forming up two chase groups who could never quite catch up. Strong winds made the bike portion of the race difficult for the athletes as Kona once again lived up to its reputation as one of the toughest courses.
Lucy Charles-Barclay, Sarah Crowley, Anne Haug, Imogen Simmonds and Carrie Lester finished the bike turn first with Lucy, Anne, Sarah, and Daniela Bleymehl pulling ahead in the return trip to make their run transitions ahead of the pack.
Jan Frodeno had a two minute lead heading into the run and steadily increased it with a run time that was more than seven minutes faster than the second and third place finishers. Tim O'Donnell and Sebastian Kienle were in close competition throughout the run and had run splits that were just 13 seconds apart. Jan Frodeno took 1st place and set a new course record with his impressive 7:51:13 finish. Tim O'Donnell also pulled off a sub eight hour race to finish second and Sebastian Kienle took third.
The women's run portion of the race was very exciting, with many strong runners closing gaps from the swim and bike portions. Lucy Charles-Barclay started the run with a sizable lead, but would it be enough to stay out ahead of the strongest runners? The hard fought miles finally took their toll on Lucy about half way through the run, near the NELHA energy lab. Anne Haug passed Lucy and soon after, Sarah Crowley also pulled ahead. Anne Haug took the first place victory in the pro women's division with a time of 8:40:10. Lucy wasn't quite ready to give up her second place spot though, and rallied near the end of the race to pass Sarah Crowley and ultimately take second, with Sarah grabbing the third place podium spot.
Not everyone had a good day at the 2019 Ironman World Championship and there were notable disappointments for several of the favorites. Patrick Lange, the 2018 champion and David McNamee, 3rd place finisher in 2018 both suffered from illness on race day and pulled out of the race in the bike portion. Daniela Ryf the 2018 women's champion struggled with stomach problems throughout the race and finished 13th with a 9:14:26. Sarah True had a flat tire near the beginning of bike section and did not finish the race. With the intense training and preparation these athletes all endure leading up to an Ironman race, we applaud them for all their efforts and hope they have a better race next time.
The 2019 Ironman World Championship Results
2019 Ironman World Championship – Men's Top 10
1. Jan Frodeno of Germany 7:51:13 – New Course Record! Swim 0:47:31, Bike 4:16:03, Run 2:42:43
2. Tim O'Donnell of USA 7:59:40 – Swim 0:47:38, Bike 4:18:12, Run 2:49:44
3. Sebastian Kienle of Germany 8:02:04 – Swim 0:52:17, Bike 4:15:06, Run 2:49:57
4. Ben Hoffman of USA 8:02:52
5. Cameron Wurf of Australia 8:06:41
6. Joe Skipper of UK 8:07:46
7. Braden Currie of Australia 8:08:48
8. Philipp Koutny of Switzerland 8:10:29
9. Bart Aernouts of Belgium 8:12:27
10. Chris Leiferman of USA 8:13:37
2019 Ironman World Championship – Women's Top 10
1. Anne Haug of Germany 8:40:10 – Swim 0:54:09, Bike 4:50:18, Run 2:51:07
2. Lucy Charles-Barclay of UK 8:46:44 – Swim 0:49:02, Bike 4:47:21, Run 3:06:00
3. Sarah Crowley of Australia 8:48:13 – Swim 0:54:05, Bike 4:50:13, Run 2:59:20
4. Laura Philipp of Germany 8:51:42
5. Heather Jackson of USA 8:54:44
6. Kaisa Sali of Finland 8:55:33
7. Corinne Abraham of UK 8:58:38
8. Carrie Lester of Australia 8:58:40
9. Daniela Bleymehl of Germany 9:08:30
10. Linsey Corbin of USA 9:09:06
Watching the Ironman World Championship
The 2020 race was cancelled due to Covid-19 health and travel concerns. Read about the 2021 Ironman World Championship.
If you aren't lucky enough to be in Kona for the event, you can see live coverage and follow along. Watch Live on Ironman Now Facebook Channel