Kealakekua Bay
Big Island Guide Travel Guide
Kealakekua Bay Overview
One of the most famous snorkeling and kayaking areas in the world lies about 12 miles south of Kailua-Kona in Kealakekua Bay. Best known for its historical significance as the first European landing site in Hawaii in 1779 as well as the site of interactions between the two cultures and the untimely death of English Explorer, Captain James Cook. A visit to Kealakekua Bay offers a bit of an educational experience as well as being an incredible location for water activities.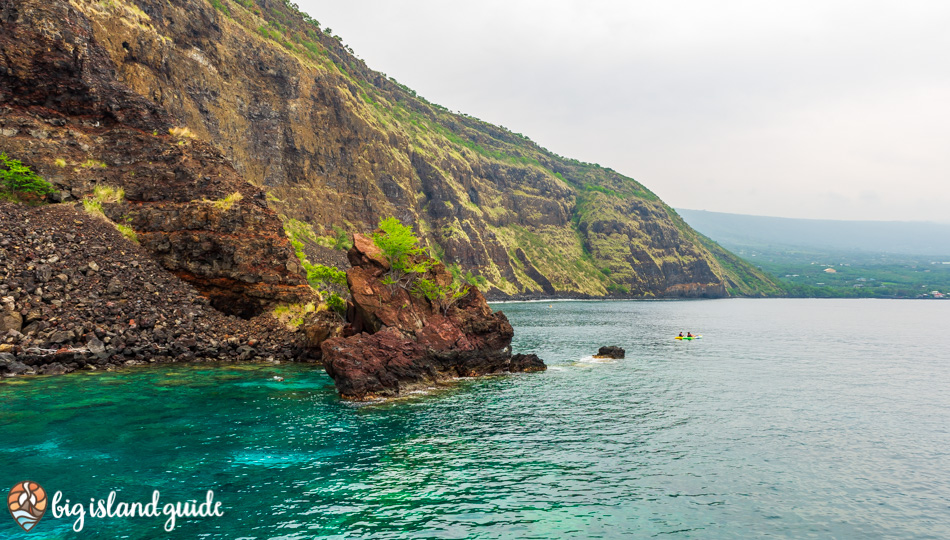 From Palemano Point to Cook Point, Kaealakekua Bay is the largest natural bay on the Big Island, it's 315 acres, measure around 1.5 miles by 1 mile. Its waters were designated as a Marine Life Conservation District in 1969 because of its abundance and diversity of marine life. The snorkeling area around the monument is inaccessible by car, but you have several options to tour Kealakekua Bay: boat tour, guided kayak tour or a steep hike into this historical and protected area.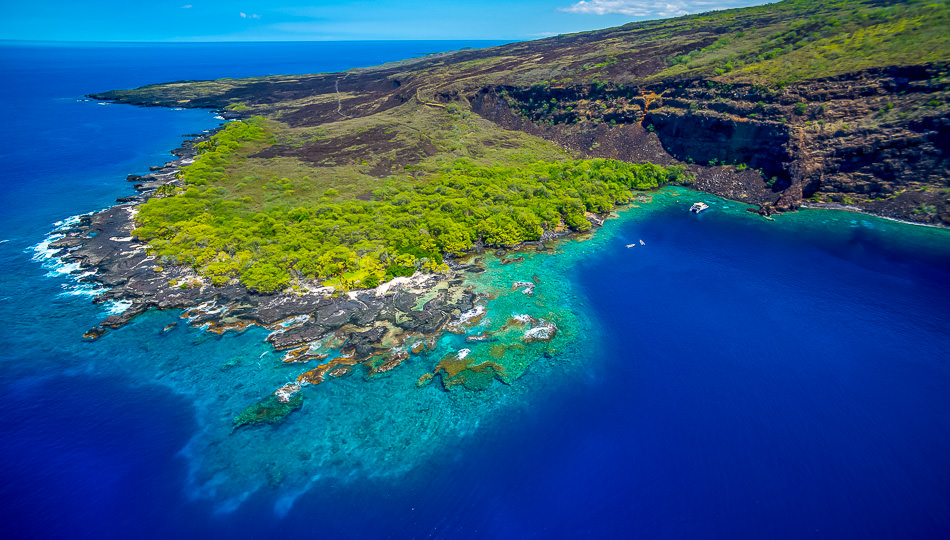 Snorkeling in Kealakekua Bay
Kealakekua Bay is a protected marine area, with some of the best snorkeling on the Big Island. The reefs are amazing along the shore to the left and right of Captain Cook's monument. The coral shelf begins in a couple feet of water right next to shore so be careful not to stand up or touch the coral. As you swim out away from shore there are varied depths leading to flourishing coral and marine life abundant in every direction. Past the rocky point, the water becomes very deep and it is exposed to rougher tide and channel currents; be aware of conditions in the bay and stay closer to the shoreline.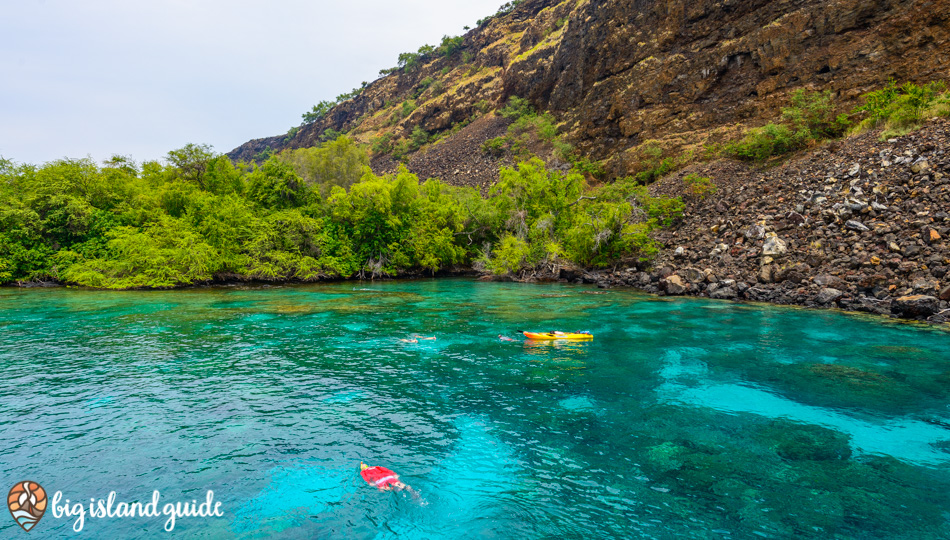 Along Kealakekua Bay reefs, you will often see schools of tropical fish, Hawaiian Green Sea turtles and large healthy coral. In the morning, you might even spot Hawaiian Spinner Dolphins "spinning" out of the oceans' surface, enjoying its sunshine waters with their mothers close by guiding them along the way. Due to the calm water conditions, extensive coral reef, and flourishing marine life, Kealakekua Bay offers world-renowned diving and snorkeling opportunities with its crystal clear waters, mirror-like ocean conditions, and more fish and marine life than you'll ever believe.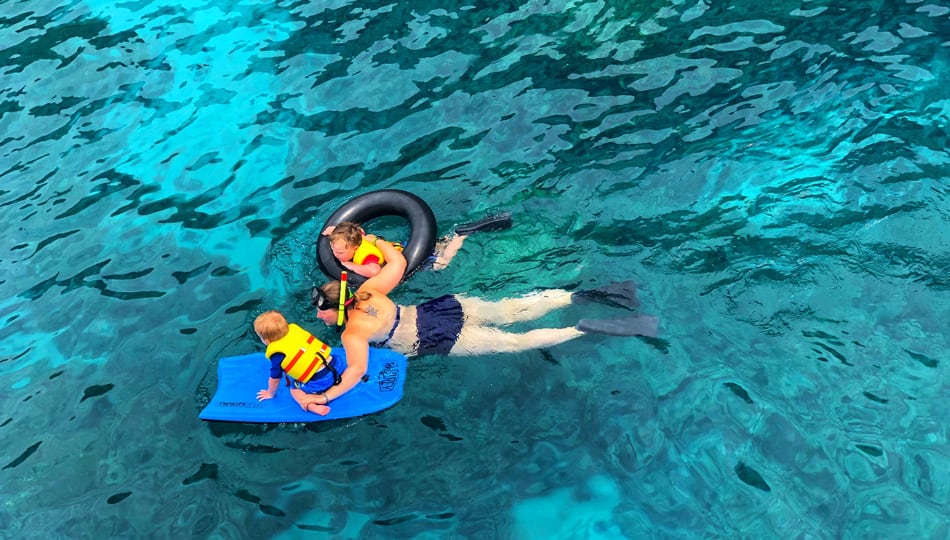 Boating and Kayaking in the Bay
If you decide to travel across the bay via a kayak tour, you must seek a licensed tour operator per state conservation regulations.  The kayak distance across Kealakekua Bay is roughly 1.5 miles. Kayaking, surfing or stand-up paddleboarding in Kealakekua Bay on your own also requires a permit – check with your rental or tour company to ensure they will provide such documentation before heading out, or you can apply directly with the state in advance. Authorized Kayak Tour Companies (2021): Adventures in Paradise, Aloha Kayak Co., Kona Boys Inc.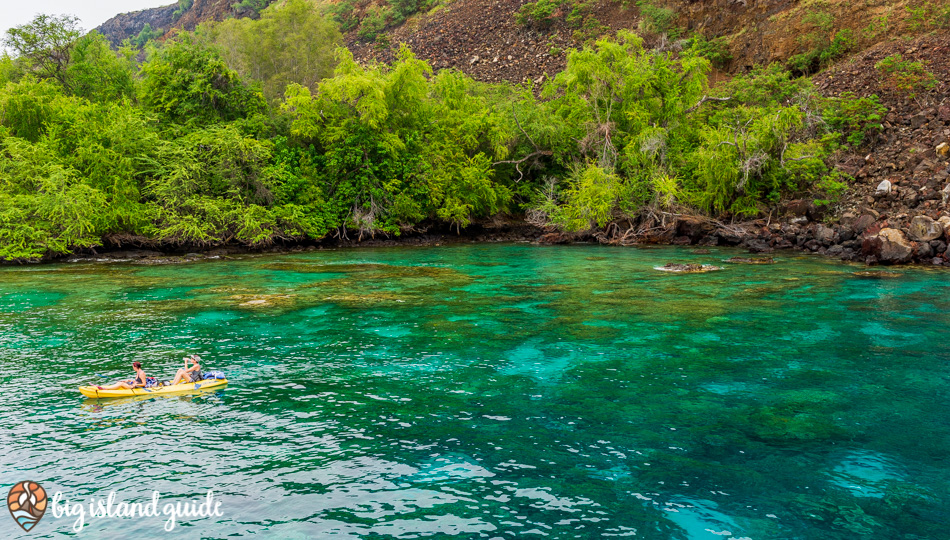 A variety of boat tours are also available, docking out of Kailua pier, Keauhou Bay and Honokōhau harbor. These range from large tour companies with boats that hold a hundred or more guests and offer on board dining, entertainment and gear, down to small private charters that take up to six passengers and offer a variety of amenities. A few operators offer snorkeling near the bay, but they don't actually have the proper permits to take you into the bay, this would greatly reduce the value of the experience so make sure your boat is permitted to take you into the bay.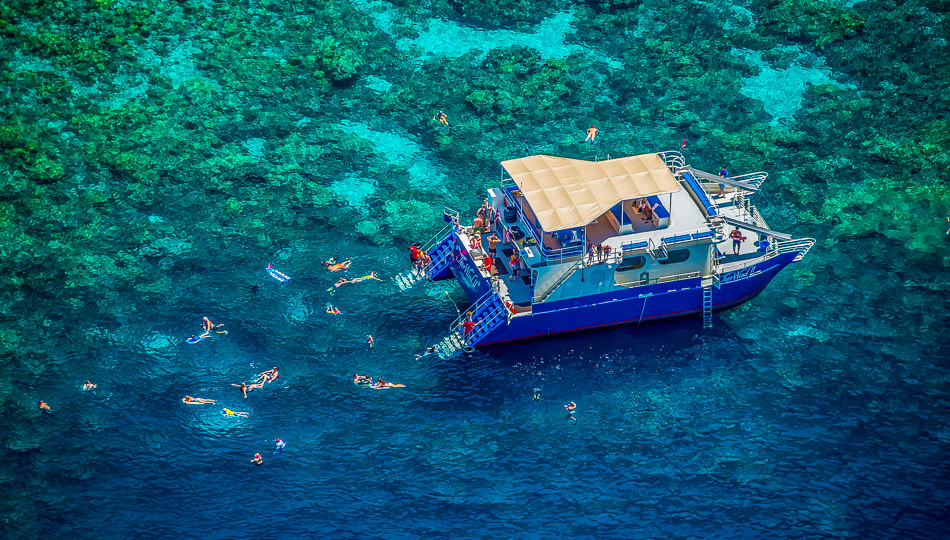 Hiking to Kealakekua Bay
There is an old cart road leading down into the bay that was created by missionaries in the 1820's. If you are in good physical condition and like to hike, you can follow this path down to the monument for a bit of adventure. However, keep in mind that this hike is approximately 4 miles roundtrip and has an elevation drop of around 1500 feet. Make sure you wear good hiking shoes and a hat and pack plenty of water. If you will be hanging out and snorkeling, bring what you need, but just know that everything feels ten times heavier on the way back up and you will likely be tired from snorkeling. There are no amenities on the Ka'awaloa Flat. The whole area is closed to vehicles so there is no possibility of hitching a ride on the way back up. You can access the trailhead near the intersection of the Mamalahoa Highway #11 and Napo'opo'o Road.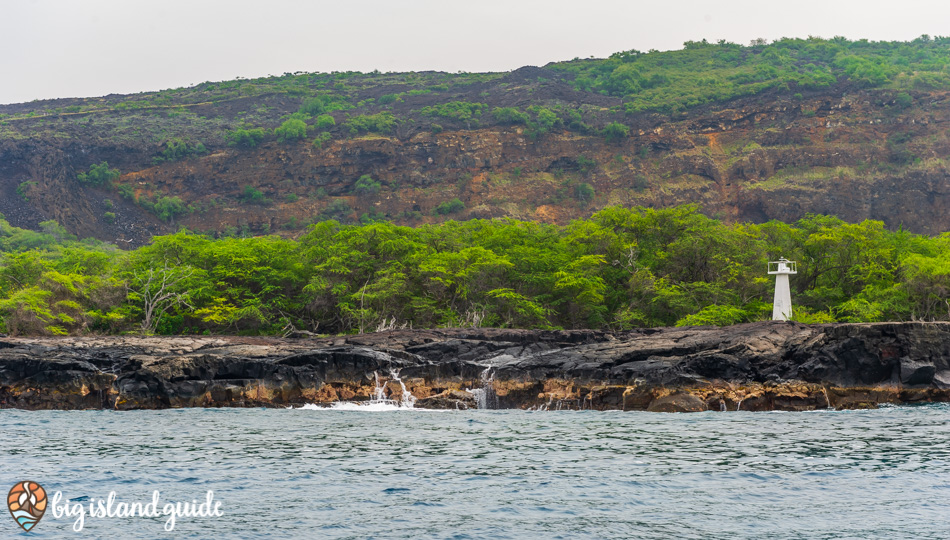 Kealakekua Bay State Historical Park Information
If you choose not to hike, kayak or boat into the bay, you can still see it from the shore of the Kealakekua Bay State Historical Park. You can't enter the water from this location, but you can get a feel for what the bay is like and it's a great spot to sightsee. You can see the Captain Cook Monument in the distance and check out the Hikiau Heiau. You may even be treated to seeing some spinner dolphins out in the bay. Or if you're looking for a great beach day, visit our complete Big Island Beaches guide to learn more about other great beaches on Hawaii Island.
Hours
Daily 7 AM-9 PM
Amenities at the Park
Scenic Viewpoint
Restrooms
Picnic Areas
Water Fountains
Kealakekua Bay State Historical Park Map and Address
82-6099 Puuhonua Beach Rd
Kealakekua, HI 96750
Historical Information About Kealakekua Bay
Kealakekua translates as 'pathway of the gods' and is one of the most significant cultural places in Hawaii. Settled more than 1,000 years ago, the bay offered a cultural community hub for ancient Hawaiians. Rock-lined trails connected the people of Kealakekua with neighboring settlements. The 180 acres of land surrounding Kealakekua Bay were designated a historical park in 1967 and the area was listed as a Historic District on the National Register of Historic Places in 1973.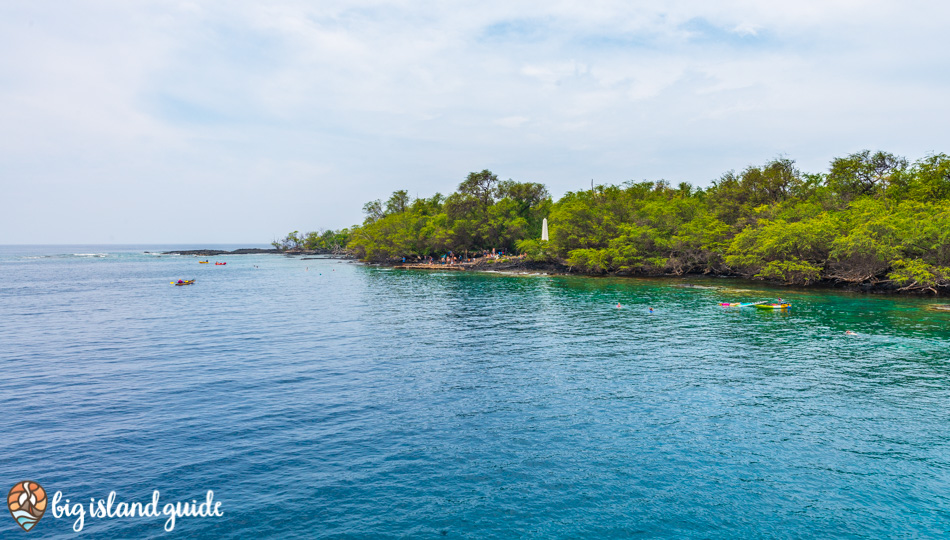 As social and political systems of the Hawaiian monarchy advanced in the 1600's, Ali'i (chiefs) and Kahuna (priests) established Kealakekua Bay as the chiefly center of Kona where they built their royal family homes and temples. The kahuna settled along the shoreline and around the pond at Kekua, today known as Napo'opo'o. It was here that the chiefs oversaw the construction of the Hikiau Heiau, Kealakekua's religious center, which was dedicated to the god Ku (ancient god of war) and the god Lono (ancient god of fertility).
Here, Makahiki ceremonies were conducted on a massive rock platform to ensure the fertility of the land. The Makahiki season was a time of peace when the ancient Hawaiians worshiped Lono, the god of fertility, life and agriculture. They spent these four months (approximately Nov-Feb) practicing sports, dancing, feasting and worshiping. Warfare was forbidden during this time, which helped ensure that the new crops would prosper.
The Captain Cook Monument at Kealakekua Bay
Kealakekua Bay is also renowned for when the British ships, the Discovery and Resolution commanded by Captain James Cook sailed into the bay on January 17, 1779. This was an auspicious time to have made contact with the Hawaiians, as it was the Makahiki season, and their religious beliefs made a peaceful exchange likely. This encounter marks the site where westerners first interacted with the ancient Hawaiian people. During their stay, Cook and his crew documented aspects of Hawaiian culture in journals and artwork and were treated to the feasts of the season. After a month of cultural exchanges and trading, the ships left Kealakekua Bay, heading for further exploration of the other Hawaiian Islands.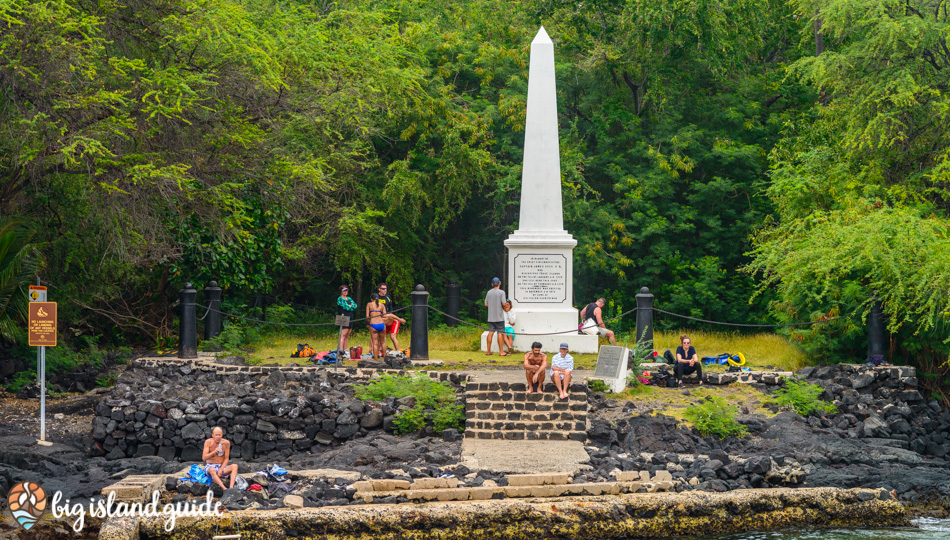 However, the extreme winds and currents in the channel between Hawaii Island and Maui proved a challenging obstacle and a broken mast forced Captain Cook to return to the Big Island for repairs. By this time the peaceful season had ended and the Hawaiians were not happy to see the Europeans returning. They felt that they had shared more than enough resources and that their original belief that Captain Cook was sent by their gods, was in error. With tensions mounting between the two groups, the situation quickly spiraled out of control.
A misunderstanding between the westerners and Hawaiians, involving a missing jolly boat, escalated into a bloody scrimmage. The fight that ensued resulted in Cook's death on February 14, 1779. Cook was stabbed through the chest with an iron dagger and his body was taken to the (heiau) platform located above Ka'awaloa. An obelisk shaped monument that was constructed in 1874 stands today in Kealakekua Bay near the spot where Cook died. The land to which the obelisk sits was deeded to the United Kingdom by Hawaiian Princess Likelike in 1877.