Hike to Stunning Makalawena Beach
Big Island Guide Travel Guide
If You're Looking for a Quiet Beach Day, Hike out to Makalawena Beach
Imagine a Big Island beach day without any crowds during your Hawaiian vacation, with a classic white sand beach, serene and private, the Shangri-La you are imagining is Makalawena Beach. This sandy utopia is literally off-the-beaten-path with access to it primarily by foot unless you have an off-road vehicle able to navigate jagged black lava rock. Most vehicles can only reach the small parking areas at a neighboring beach or along Highway 19, so beachgoers hike one to two miles each way to get to this beach. This logistical challenge, therefore, excludes a high percentage of average beachgoers.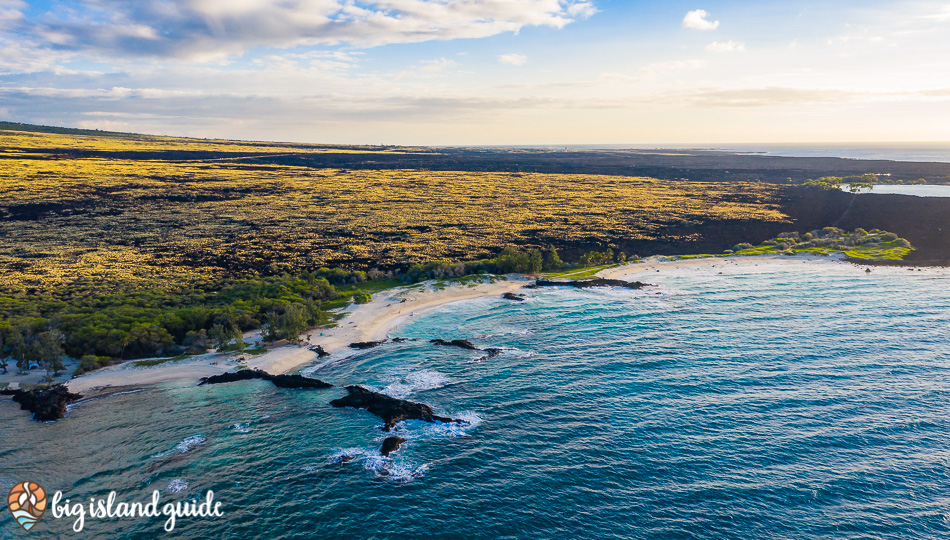 Kekaha Kai State Park – Three Great Beaches
Makalawena beach is part of the Kekaha Kai State Park and if you like to explore, this is the park for you. This Kona coast state park also includes the beaches of Mahaiula Beach to the south and Maniniowali Beach to the north. The park is a trifecta of three idyllic beaches, the Pu'u Ku'ili cinder cone, abundant bird habitat, and a scenic hiking trail along a 4.5 mile stretch of the Ala Kahakai National Historical Trail. Ala kaha kai means "shoreline trail". This 175-mile trail network runs along the western coast of the Big Island and traverses across hundreds of ancient Hawaiian settlement sites and over 200 ahupua'a traditional land divisions.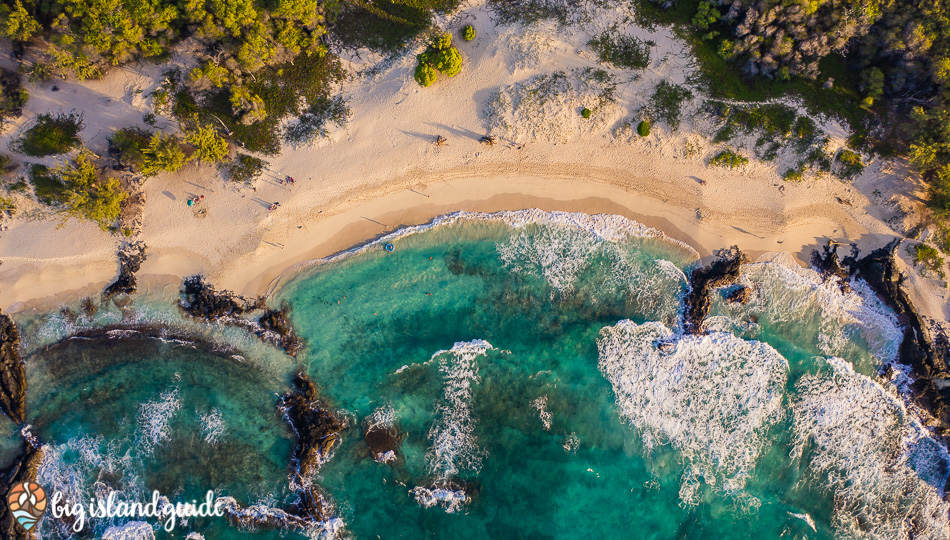 Makalawena Beach Overview and Activities
With some of the least populated stretches of beach, palm tree lined shores, and the most extensive sand dunes in the Kona district located here, Makalawena's beach, makes for a beautiful and memorable day trip. Located north of Kailua-Kona in a dry arid desert climate, it's hot here! With the effort it takes to get to Makalawena, you'll want to keep your load light, but in order to enjoy your day in the sun, make sure you've packed plenty of water, reef safe sunscreen, snacks and a good sun hat or even better an umbrella.
The swimming at Makalawena Beach is great when the water is calm, with excellent snorkeling along the lava rock outcroppings that run along the multiple coves. Makalawena Beach is part of Puu Alii Bay, and this entire area is very rich in marine life. Bodyboarding, swimming, and snorkeling are common activities here. As there is no lifeguard on duty at Makalawena, and the current can be strong, make sure to check the water conditions if you plan to swim, and stay out of the water if the surf is rough.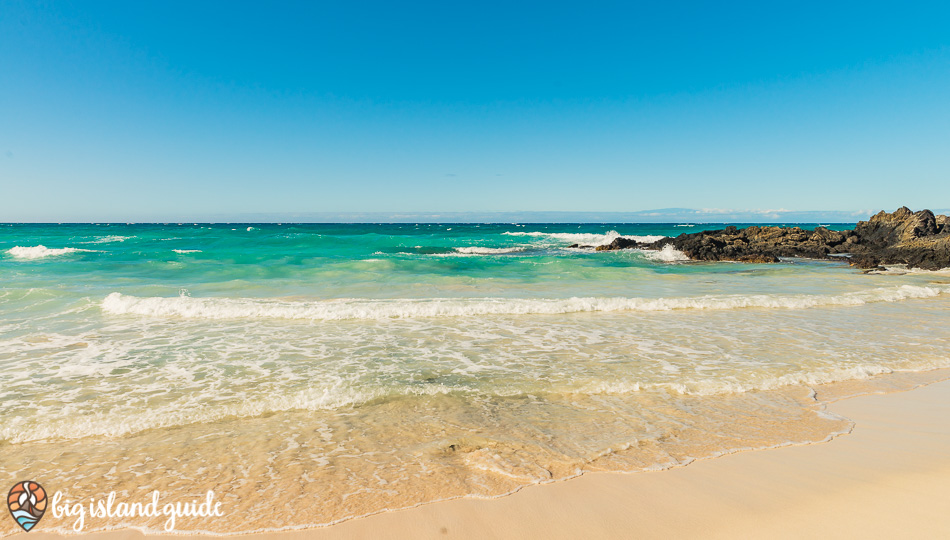 On the mauka (toward the mountain) side of the beach is the Opae'ula Pond, recognized as a critical habitat for coastal birds. The 12-acre freshwater pond contains many opae'ula (red shrimp) which is a favored food for the resident feathered friends such as the endangered a'eo (Hawaiian stilt). This incredible bird habitat is also the only known breeding area for the ʻaukuʻu (black-crowned night heron). Also frequenting the area, you might see wild goats wandering through the black lava fields.
Directions and Access to Makalawena Beach
Kekaha Kai State Park is just a couple of miles north of the Kona airport. Plan on arriving early as parking can fill up, especially on the weekend.  Access to Mahaiula Bay and Makalawena Beach is between mile markers 90 and 91 on Highway 19, there is a sign on the Hwy at the intersection.
The lava road to the shoreline is rough so take it slow, especially if you are driving a car and not a 4-wheel-drive vehicle. The state park department has dramatically improved the road in the last couple of years, but it is still rough in many places. If your car has particularly low clearance, you may want to walk it. The end of the road is 1.5 miles from the highway. Follow the road until you arrive at a locked gate on the side of the road and park there.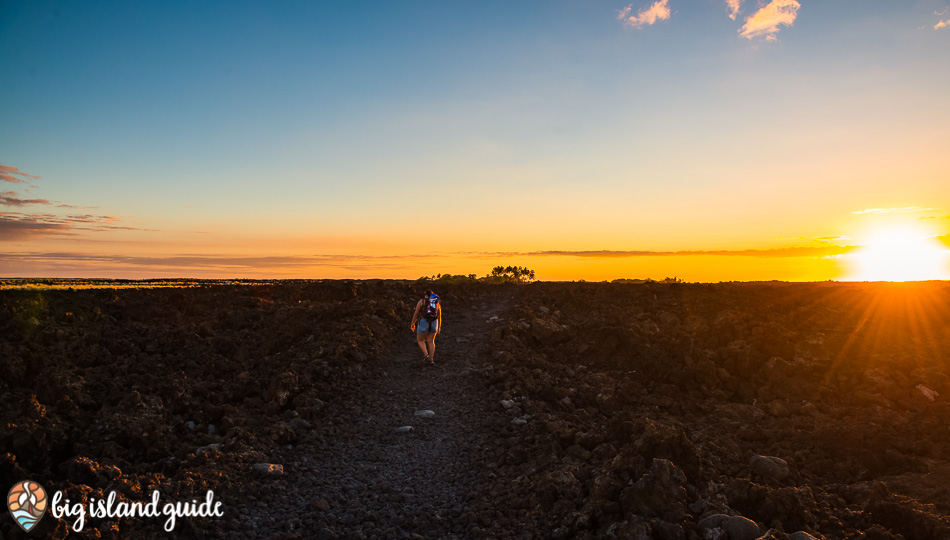 Mahaiula Beach is your last chance for restrooms, so if you need to go, continue down the road to the end and there are restrooms on the left, then backtrack to the gate to start the hike. At the gate, walk North following the road to nearby Mahaiula Beach. At the north end of the beach, you will find the trail head to Makalawena just past a historic house.
Proceed north, walking for about 15 – 20 minutes across the lava field. Good walking shoes are recommended for this stretch, it's not a difficult hike, but the footing is a bit unstable. You'll know you have arrived at Makalawena Beach when you see sand dunes to your right and the inviting ocean to your left.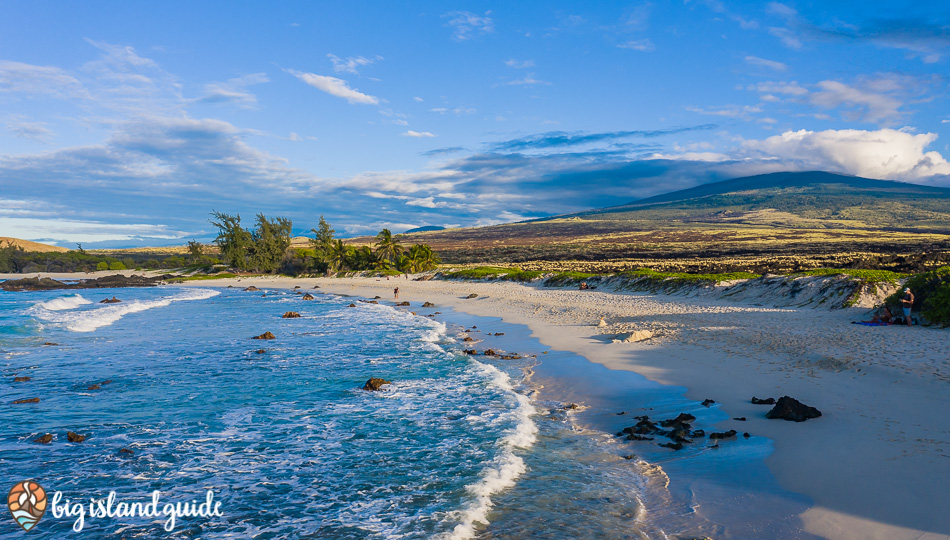 Makalawena Beach Hours, Info & Amenities
Gate Open Daily 8 AM-7 PM
No Amenities
No Lifeguards
As with all beaches in Hawaii, visitors are requested to take away what you brought with you and take nothing away you didn't bring with you. Since there are no amenities or trash services, you will need to hike out any items you bring with you to Makalawena.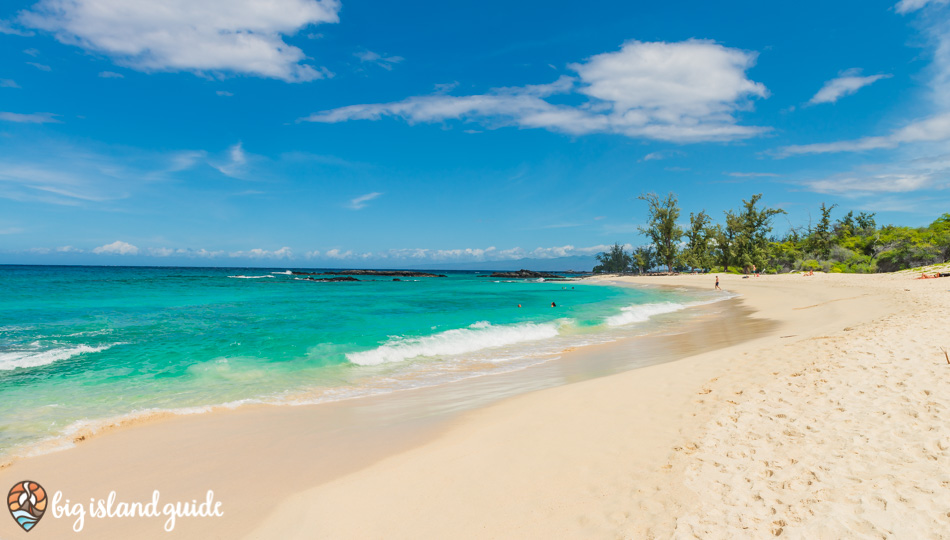 Also, if you are parked at Mahaiula Beach make sure to give yourself enough time to get back to your car before the gate is locked at 7 pm. I know it's tempting to stay until sunset, but the trail is a bit tough to hike in the dark so hike back early and spend sunset at the much closer Mahaiula Beach. Visit our complete Big Island Beaches guide to learn more about other great beaches on Hawaii Island.
Makalawena Beach Map

You can also park along the Highway between mile marker 88 & 89 (just south of the entrance to Kua Bay) and hike down a rocky trail for two miles to reach the north end of the beach. Many locals park here and carpool down to the shore with friends who have very tough 4WD vehicles. Do not try to take your rental car down this trail!