5 Must Visit Beaches on the Big Island of Hawaii
Big Island Guide Travel Guide
The beaches on the Big Island of Hawaii are as beautiful and iconic as they come, lending themselves well to long, lazy afternoons spent with a cold drink in your hand and your feet in the sand. Due to the incredible number of available beaches at your disposal, make the most of your vacation time and prioritize a visit to the following must visit beaches.
Hapuna Beach
One of Hawaii's – and the world's – most iconic beaches, Hapuna is located along the Kohala Coast and offers nearly a half mile of immaculate white sand. Perfectly suited to a lengthy beach stay, Hapuna is consistently atop most "best beaches" lists for a reason. You could easily spend an entire day frolicking in the surf, riding the waves and snorkeling the day away.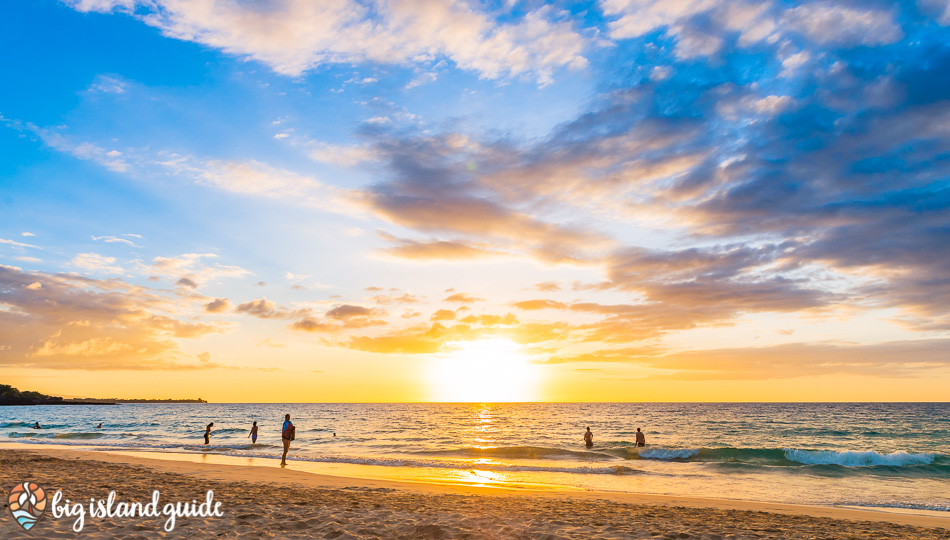 The beach park is equipped with plenty of shaded pavilions, picnic tables, restrooms, and shower facilities, and has ample parking ($5 parking fee). Hapuna is a fantastic family beach with a lifeguard on duty daily. There is a small café at the top of the park where you can get a quick lunch or snack from 10am – 4pm and they rent beach gear if you forgot anything. The beach doesn't have much shade and is typically very sunny so it is a good idea to pack an umbrella or rent one.
Waialea Bay (Beach 69)
Positioned just south of Hapuna Beach, the beach along Waialea Bay is among the best snorkeling beaches on the Big Island. The beach itself is a mixture of white sand and rocky patches (rockier in the winter when the sand pulls out and sandier in the summer). There are large Kiawe trees along much of the shoreline, providing nice shaded areas, a perfect respite if you've already gotten too much sun.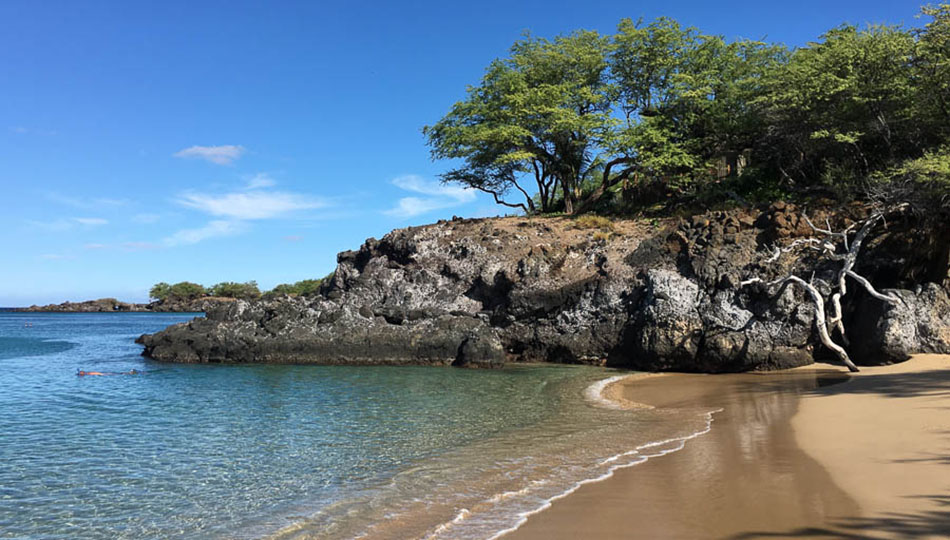 The snorkeling is diverse and spread across the bay where there are several reef areas to explore, with plenty of marine life to keep you busy for hours. There are showers and restrooms as well as a large parking area ($5 parking fee) at this beach.
Anaehoomalu Bay (A-Bay)
Commonly known as "A-Bay," this is a great location for families to swim and play in the water. The long crescent shaped beach is a mixture of salt and pepper sand, protected by a generous reef that calms the waters within. The northern side of the bay provides good snorkeling opportunities.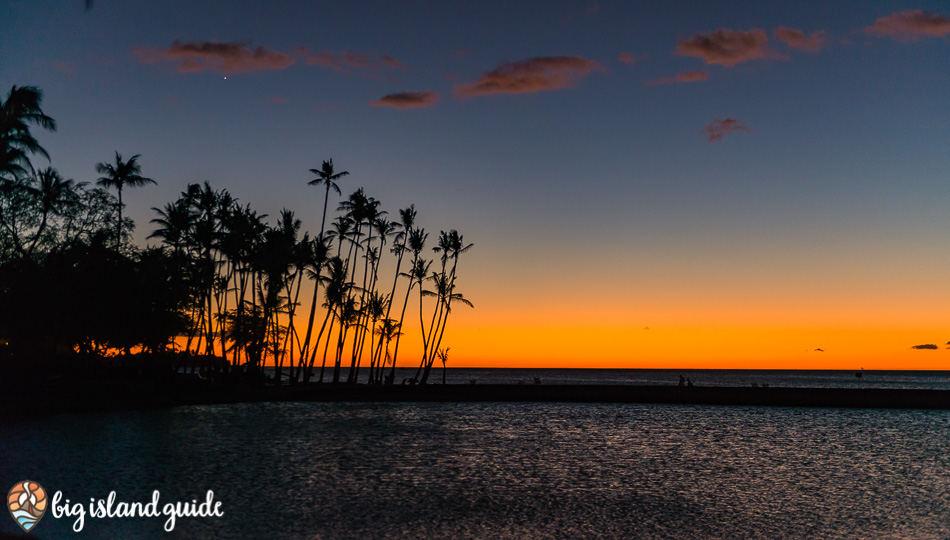 This is a scenic beach with classic palm trees dotted along it's sandy shores and is well known for its stunning sunsets. The fish ponds are great for exploring and there are several historic sites to check out along the walkway. A day spent at A-Bay means beach chairs, palm trees, and gentle ocean breezes.
Kauna'oa Beach (Mauna Kea)
Known as one of the finest beaches on the Big Island, Mauna Kea Beach stretches almost half a mile and offers sandy-bottomed shores perfect for lengthy bouts of playing in the clear, colorful water. Located within the Mauna Kea Beach Resort, you'll need to arrive early and ask the gate attendant for a pass, but the effort will be well worth the experience.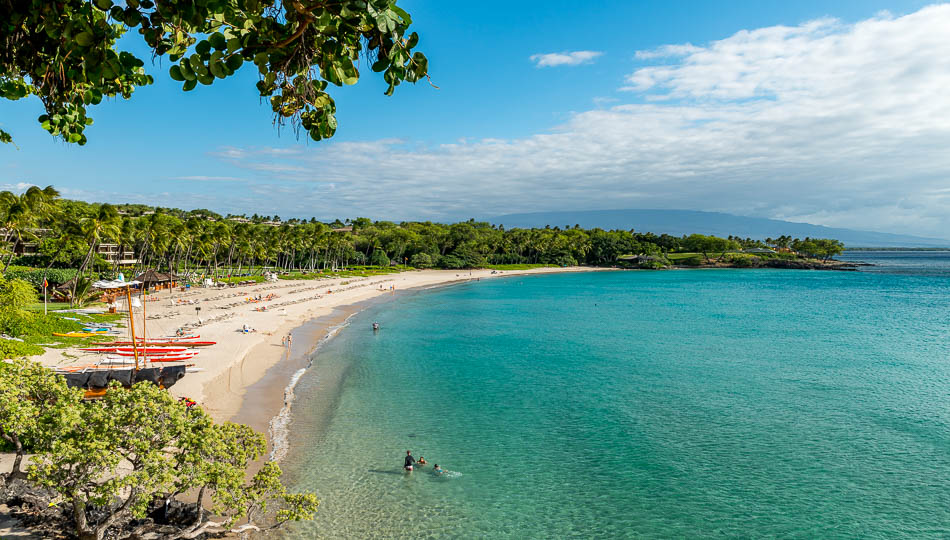 This beach is a dream for sunbathing, or if you're looking for a little adventure, you can snorkel at the small reefs on the sides of the beach or rent boogie boards from the concession stand at the resort. The resort also has a restaurant and beach bar if you need a snack or refreshing tropical drink.
Maniniowali Beach (Kua Bay)
The locals call this gorgeous span of soft white sand and crystal clear waters Kua Bay, but however you want to name it, the experience of boogie boarding, snorkeling and swimming here will be unlike any other. Some of the sand washes away in the winter months, exposing layers of black lava rock, so a visit during the spring, summer or fall is ideal for those wanting to enjoy the soft white sand abundant along its shores.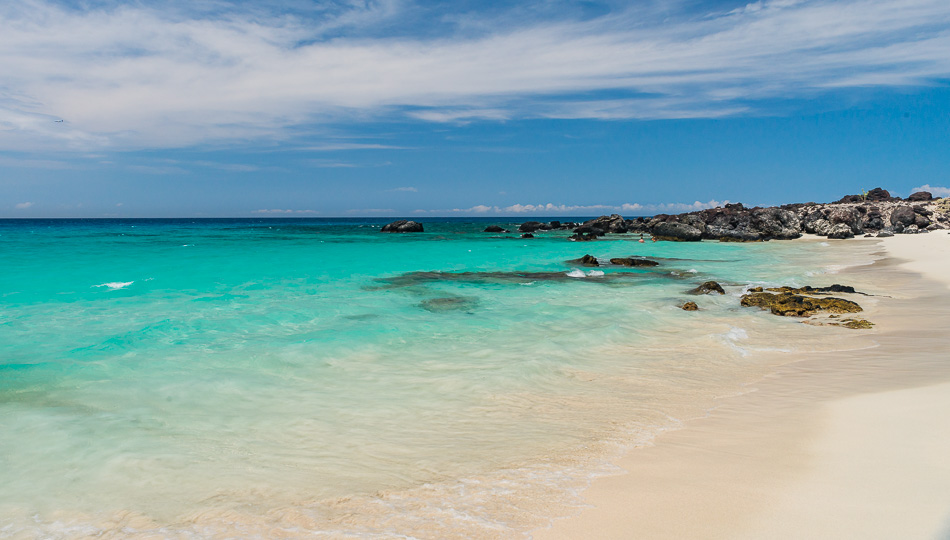 During the winter months or larger swells, the water can get a bit rough so you should watch conditions closely, but it's always a treat to watch the local kids out riding the waves. The state installed a Lifeguard station at this beach in 2019. There's plenty of sun and very little shade here, so packing an umbrella for an extended stay is recommended. There are showers and restrooms as well as some parking at this beach.
While these are some of our favorite beaches, you can visit our complete Big Island Beaches guide to learn more about other great beaches on Hawaii Island.
Must Visit Beaches Map