Two Step Beach at Honaunau Bay
Big Island Guide Travel Guide
Two Step Beach at Honaunau Bay Overview
An incredible turquoise bay along the Big Island's western side, Honaunau Bay (or Two Step Beach / Pae'a) is among the best places in all of Hawaii to enjoy world-class snorkeling among impressive coral reefs and lava rock pathways. Two Step is also a renowned scuba diving location for beginners and experts. There is a sandy area on the north side of the bay where the local dive shops teach new divers and you often see groups of divers setting out on adventures into the deeper waters of the bay from the two-step entry. Although not always present, there is a good possibility of seeing dolphins in the deeper waters of Honaunau Bay.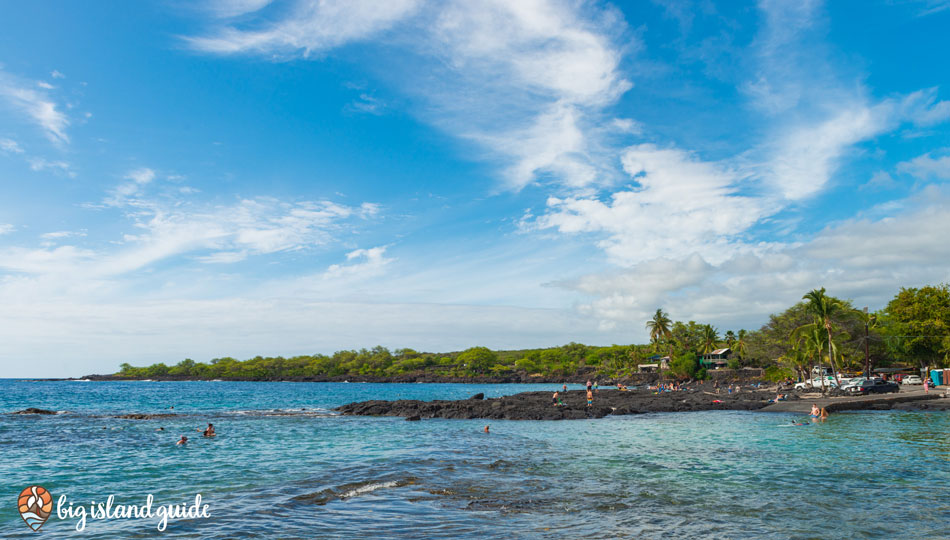 Pu'uhonua O Honaunau National Historical Park
As you approach the bay, you will see the Pu'uhonua O Honaunau National Historical Park. This incredible National park is where kapu breakers, defeated warriors, and civilians found refuge in ancient Hawaiian times. The historical significance of this place is truly impressive and should not be missed, the energy here is that of forgiveness and peace still today. The park spans across 182 acres and can easily take a couple of hours to explore. It makes for a really nice day trip to visit the park to learn about the history of the area and then go snorkeling at two-step, right around the corner.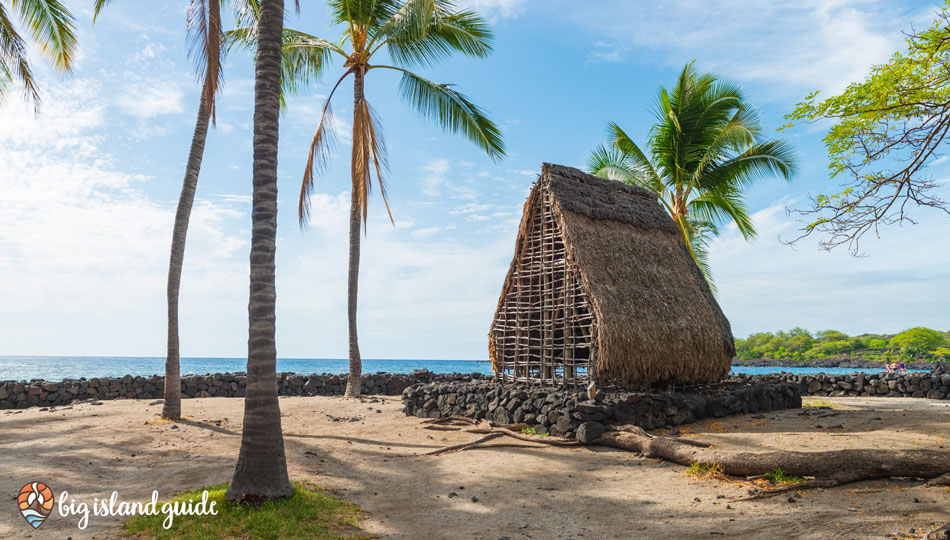 I recommend going to the park first (they open at 7am) and then heading over to Two Step for a nice swim to cool off. There aren't any facilities at the beach area (just a porta-potty) so you won't be able to shower and change easily to go to the historic city later and they ask you not to use their restrooms at the park to clean up after snorkeling. Keep in mind that this is a historical site with religious significance so wearing swimwear without proper coverups or visiting while dripping wet isn't appropriate.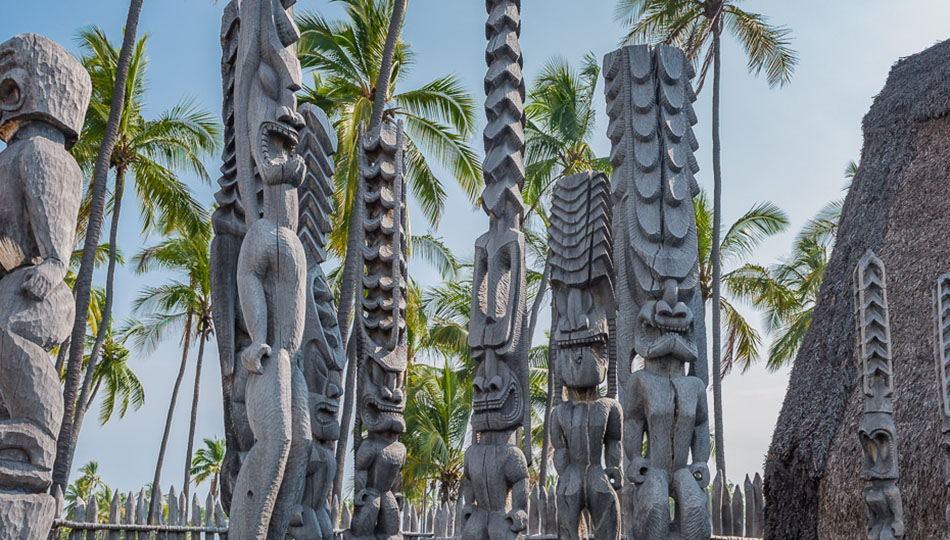 Snorkeling at Two Step Beach in Honaunau Bay
If you're heading to the bay to snorkel, instead of driving into the National Park parking lot, make a right turn on the small one-way street about a block before you reach the park gate and head toward the ocean. Parking can be difficult, as there are only a few spots so you will probably have to park along the road or try to get in the $5 lot. With limited spots, it's a good plan to get there early before the crowd arrives. Just make sure you don't block any driveways along the road and take it very slow as this is a residential street.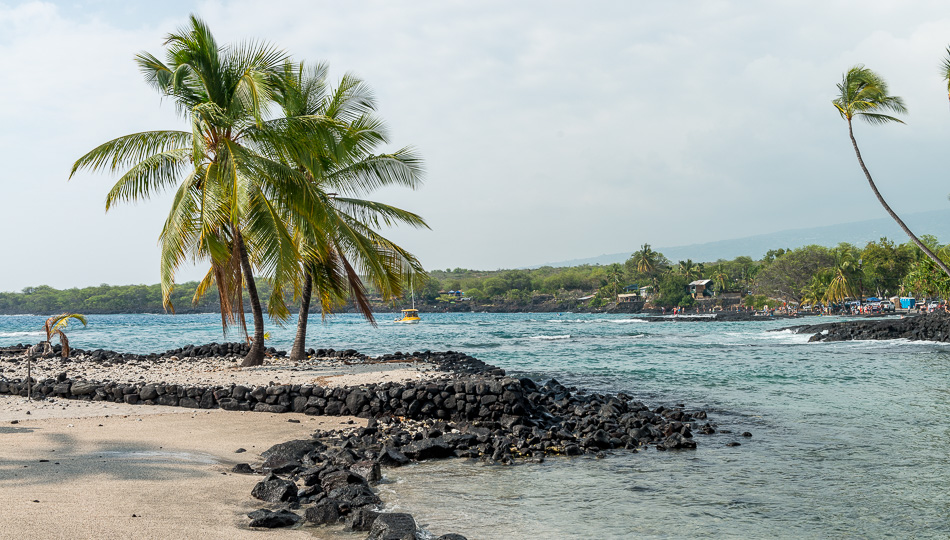 Honaunau Bay typically becomes overcast in the afternoon resulting in lower marine life visibility, so we suggest morning as the best time to go 'two-stepping'. There isn't a sandy beach area at Honaunau, just a smooth pahoehoe, lava rock ledge where visitors can set up chairs and towels. This ledge meanders along the water line, making for a great spot to put on your snorkel gear as well as creating the famous Two Step entry point into the water. If you're looking for a more traditional beach, visit our complete Big Island Beaches guide to learn more about other great beaches on Hawaii Island. Please make sure to wear only reef safe sunscreen into the ocean or, even better, wear a sun shirt for protection.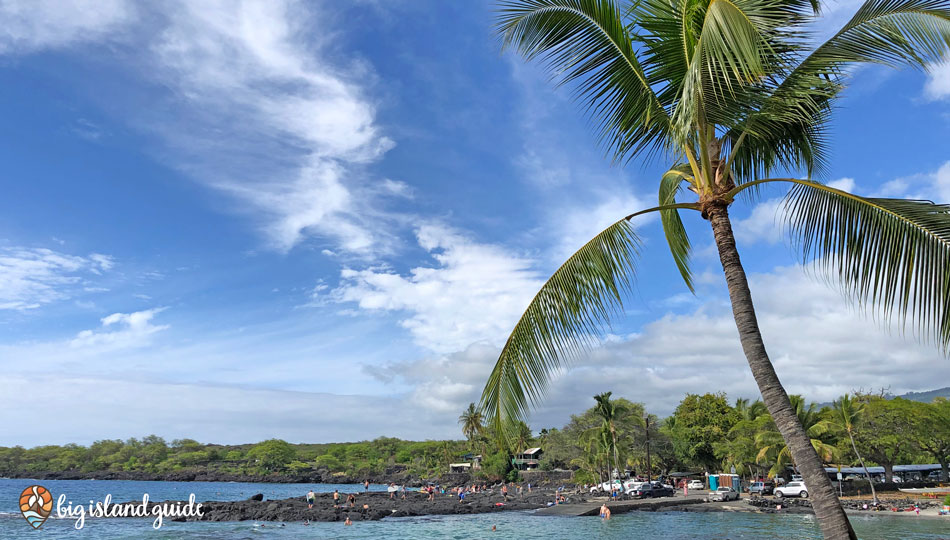 Although it is a fairly sheltered bay with generally great snorkeling conditions, if the surge is rough it can make entering and exiting the water dangerous so, you might want to come back another time. You will notice the ocean surge ascending and descending, so coordinate your entrance and exit into the water with the tide to make departing the water easier. As you exit, turn around, seated and slide onto the closest step to gain stability against the surge's motion. There can be sea urchins in some of the holes within the rocks, so be careful where you put your hands and feet.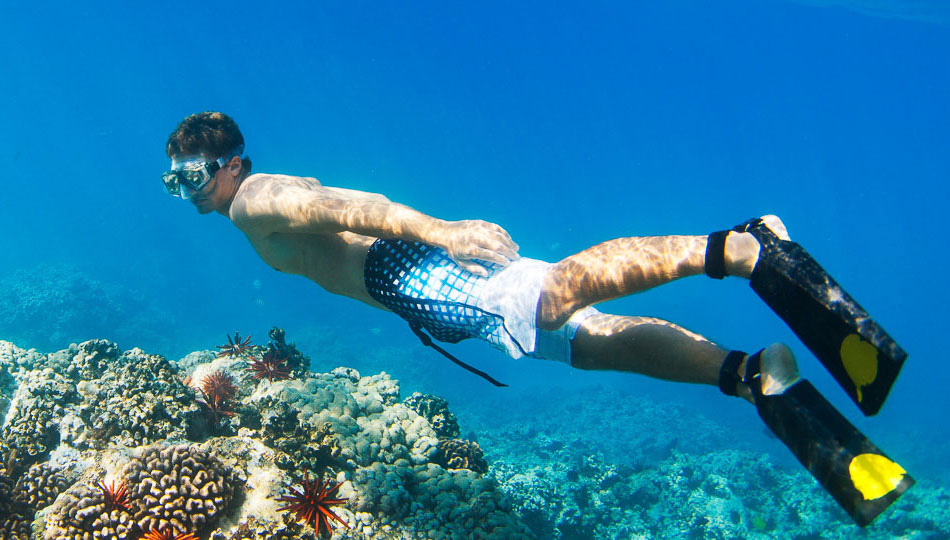 Up close to the shore are shallow coral areas, perfect for watching fish. You will see many schools of fish here, and some healthy and diverse coral in around 10-15 feet of water. On the south side of the bay are some small canyons created by ancient lava flows running into the bay. This is where we most often spot Hawaiian green sea turtles swimming along the coral reef canyons and channels. Remember that they are endangered species and you must maintain at least 10 feet of distance between you and them. Never chase or harass the sea life, it disrupts their feeding and mating and can negatively impact their health and the overall wellbeing of the population. The north side of the bay is a bit deeper and has some interesting coral formations, nice schools of tropical fish and the diving area we mentioned before.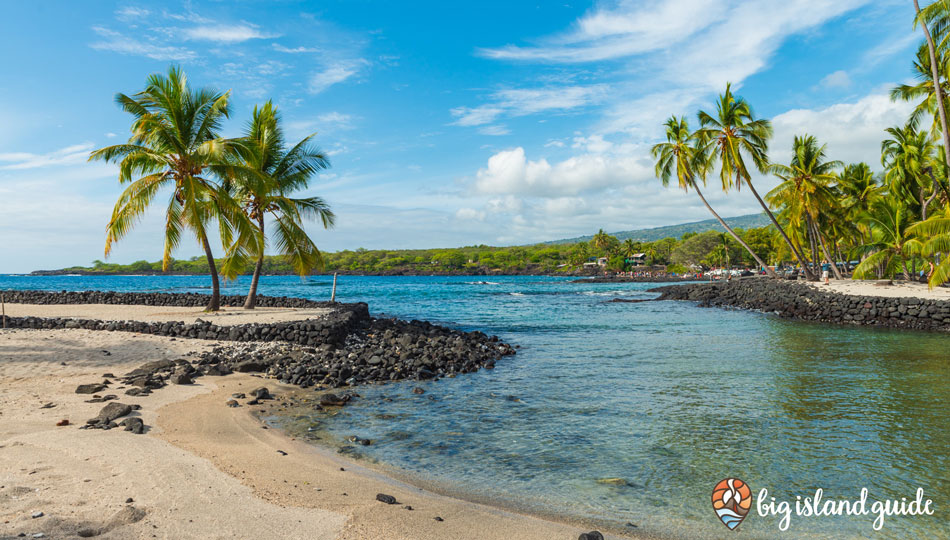 Dolphins
Out in the center of the bay, the depth drops off gradually to well over 100 feet. If you are lucky, you may get to see the Hawaiian spinner dolphins out in the deeper parts of the bay. Dolphins feed at night and rest during the day. They rest by using unihemispheric sleep, this is where they shut down half of their brain at a time and cruise slowly around near the surface. Because of this technique, they like to spend the day in the calmer waters in the protected bays like Honaunau Bay where they can get better rest and don't need to be as alert. Interesting fact, they shut the opposite eye from the side of the brain that is resting, so if their left eye is shut the right side of the brain is resting. Although, it's impossible to anticipate if they'll be in the bay while you're visiting, it is an incredible sight when they are.
Please Note – Swimming with Dolphins is No Longer Allowed in Hawaii
*In Oct 2021 a New Rule under the Marine Mammal Protection Act prohibits approaching, swimming with or remaining within 50 yards of Hawaiian Spinner Dolphins in the wild. See the NOAA Website for more information. Please don't chase after the dolphins or try to touch them. If they approach you while swimming, you should calmly swim away from them until you are at least 50 yards away.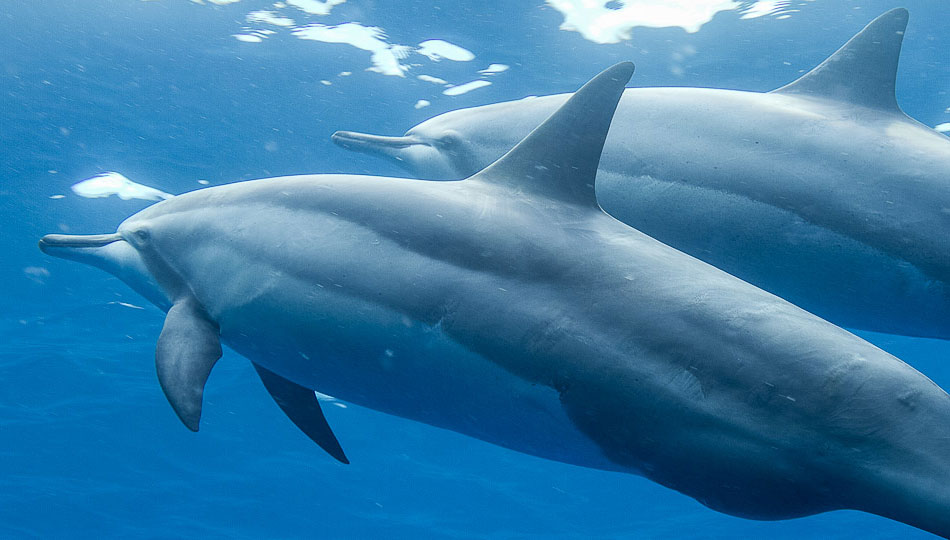 Honaunau Bay Amenities
Very Limited
Picnic Tables
Limited Parking
Porta Potty Restroom
No Concession Stands/Food
Open Daily 7am – 9pm
No Water or Showers- we recommend bringing plenty of drinking water as well as a large jug of water with you to rinse off after you've enjoyed the ocean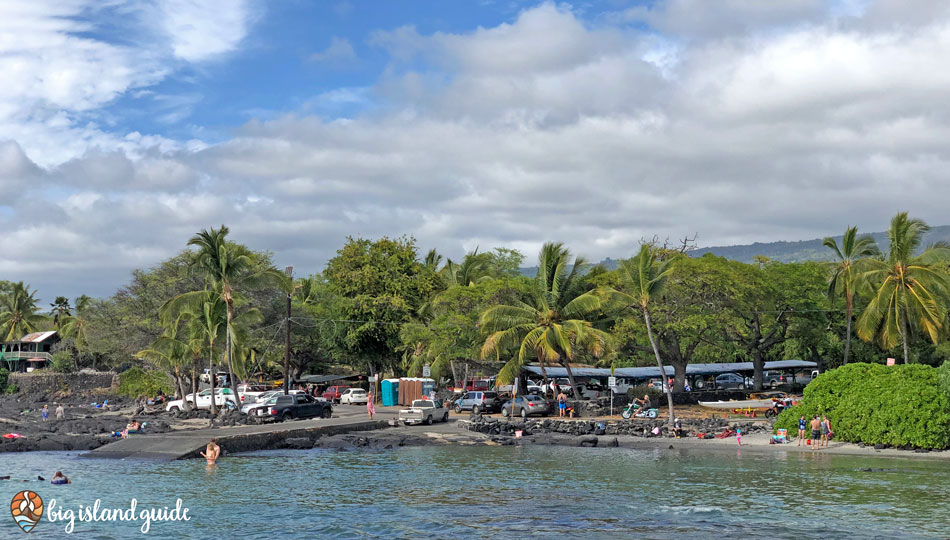 Other Area Activities
While you are in the area, besides a stop at the Pu'uhonua O Honaunau National Historical Park, there are several other things to do and see in the area. Stop by the lovely Painted Church, take a farm tour at Big Island Bees, or even take a stroll through the Paleaku Gardens for a fun-filled afternoon.
Directions, Location and Map to Two Step at Honaunau Bay
Heading south on Highway 11 (Hawaii Belt Rd) from Kailua Kona travel about 20 miles until you pass the 104-mile marker. After the Honaunau Post Office take a right onto Highway 160 (Keala O Keawe Rd). Follow this road 3.5 miles towards the ocean and turn left at the Pu'uhonua O Honaunau National Historical Park sign.
Address
Honaunau Beach Rd
Captain Cook, HI 96704